Assassin's Creed (AC): Valhalla takes the player to the nordic regions, England and other regions of the world. The previous games, AC: Origins and AC: Odyssey, massively shifted the Assassin's Creed series from a linear stealth game to a full fledged RPG. After about a 60 hours of playtime, here's my review on Assassin's Creed Valhalla.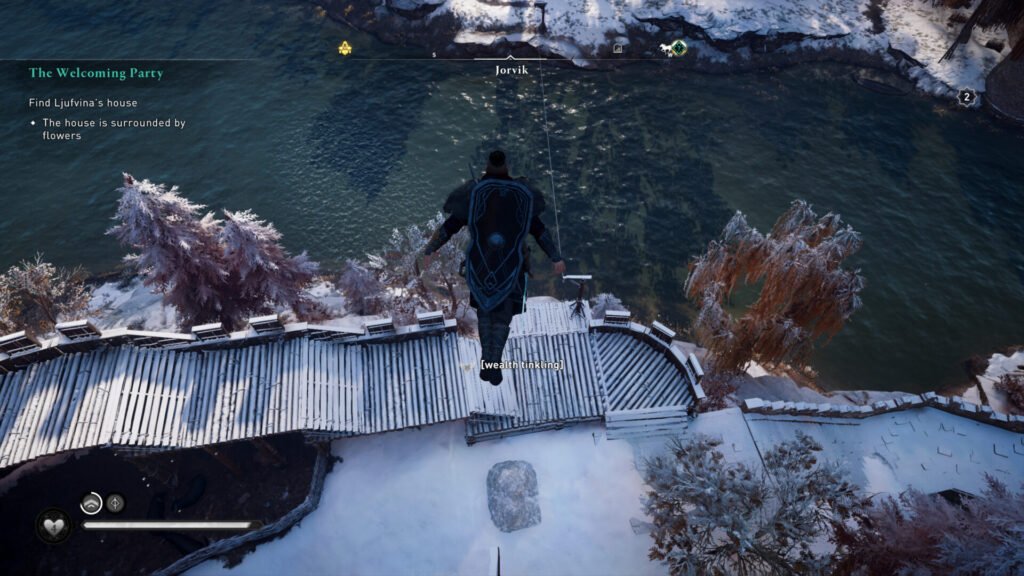 The Story
Eivor and the Raven Clan
The story of Assassin's Creed: Valhalla starts in Norway in the year 873. You are introduced to the viking Eivor, the protagonist of AC: Valhalla. Eivor and his/her (Eivor can be male or female) brother Sigurd are caught up in a number of conflicts in order to establish a settlement for their fragmented Raven Clan.
In order to do so Eivor, Sigurd and a number of other vikings make their way to England to form alliances with the locals. Your settlement in England, Ravensthorpe, can be upgraded by forging alliances across England, by raiding villages and completing quests.
In Ravensthorpe, Eivor can choose where he/she wants to go next. One of your fellow vikings, Randvi, helps you pick your next destination. These destinations are all regions in England. Each region has its own (side)story which all comes together in the end. You cannot go everywhere from the get go. For some regions, Eivor needs to be of a specific (gear)level in order to complete an area. That's the RPG element of Valhalla for you.
Assassins vs. Templars
Early on in the game, Eivor and Sigurd meet two assassins (Hidden Ones) who bring up the conflict with the Order of Templars. Although this immediate introduction to the assassins might seem like a great start for another Assassin story, it does not deliver on that. The conflict between the Assassins and Templars has really shifted to the background in Valhalla. This was already noticeable in AC: Odyssey but in Valhalla it feels more like a side story.
You can still actively hunt the order of Templars like in AC: Odyssey and the conflict between Assassins and Templars is still present in the main story. But it's just not that leading anymore.
Occasionally, you will leave the Animus to explore the environment in the present. Because you would almost forget that everything you are experiencing is a simulation in the Animus. The ties to present are loose and don't carry that many meaningful moments. This is great for newer players who just started the Assassin's Creed franchise. This might disappoint players who have been playing the franchise since the original game in 2007.
Dialogues and choices
During the story of Assassin's Creed Valhalla you meet a number of new characters. These characters often appear in cutscenes and sometimes give players an option on how to approach a certain issue. Although these choices do seem meaningless at first glance, they can have an impact on the game's ending.
There were however, some choices that didn't make sense. Without spoiling too much of the game's story, at one point Eivor was given the choice to spare or execute a prisoner. During my playthrough, I decided to spare the prisoner. However, immediately after making the decision one of my allies killed the prisoner anyway. No matter what, the outcome was predetermined.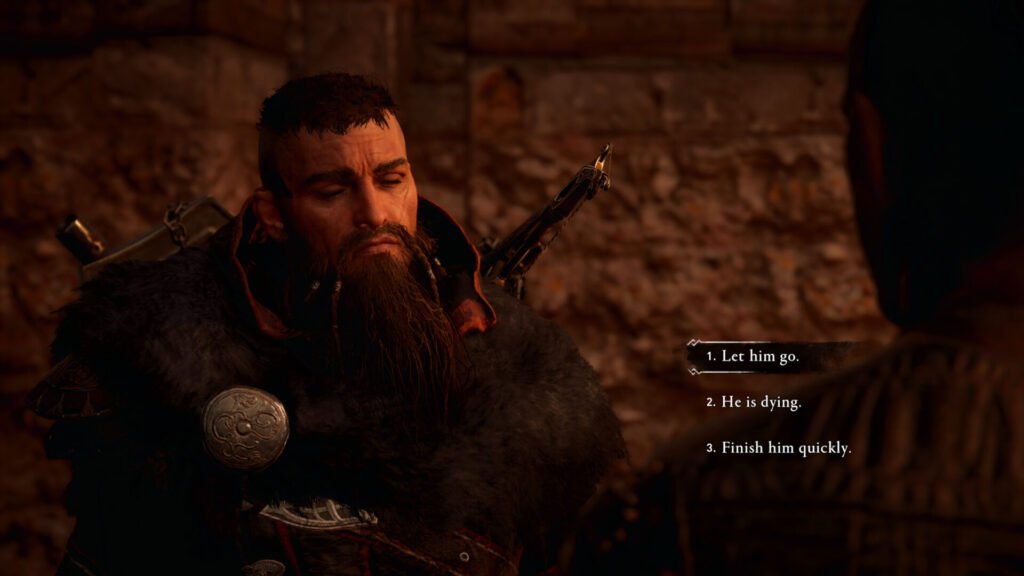 The dialogues and cutscenes have excellent voice acting and are pleasant to listen to. There are some cutscenes that feel like 'filler' content and are unnecessarily long. it doesn't make sense to talk for 4 minutes during the siege of a castle. Just get on with it and fight.
If this bothers you as much as it does me then you can easily skip bits of the cutscene by pressing the space bar.
Combat
The Combat in Assassin's Creed Valhalla is smooth as butter. Combat and targeting works great. With a few clicks or a press of a button you can execute light and heavy attacks. Eivor also has access to a bow to eliminate targets from a distance.
Eivor has a wide variety of weapons to choose from. You can choose Eivor's iconic axe but you could also go for a flail to fight your enemies. If you fight a multiple enemies, it is wise to use a shield to parry attacks. Whenever Eivor parries an attack it will weaken enemies and expose their weak spots. Whenever an enemy's weak spot is fully exposed, Eivor is able to execute a Stun Attack which instantly kills an enemy or deals significant damage to them.
The Skill Tree & Tomes of Knowledge
Like Assassin's Creed: Odyssey, it is possible to acquire new abilities whenever you level up. In Odyssey this process was simple and straight forward. In Valhalla this system is replaced by an enormous skill tree. This skill tree contains a great number of combat enhancements to increase your damage, stealth or movement in the world. By leveling up or completing side quests, you obtain skill points that you can use in the Skill Tree.
The skills in the Skill Tree are, in most cases, not activatable. The enhancements from the Skill Tree are usually in the form of an extra adrenaline bar, being able to use a second assassination or stomp enemies when they are down.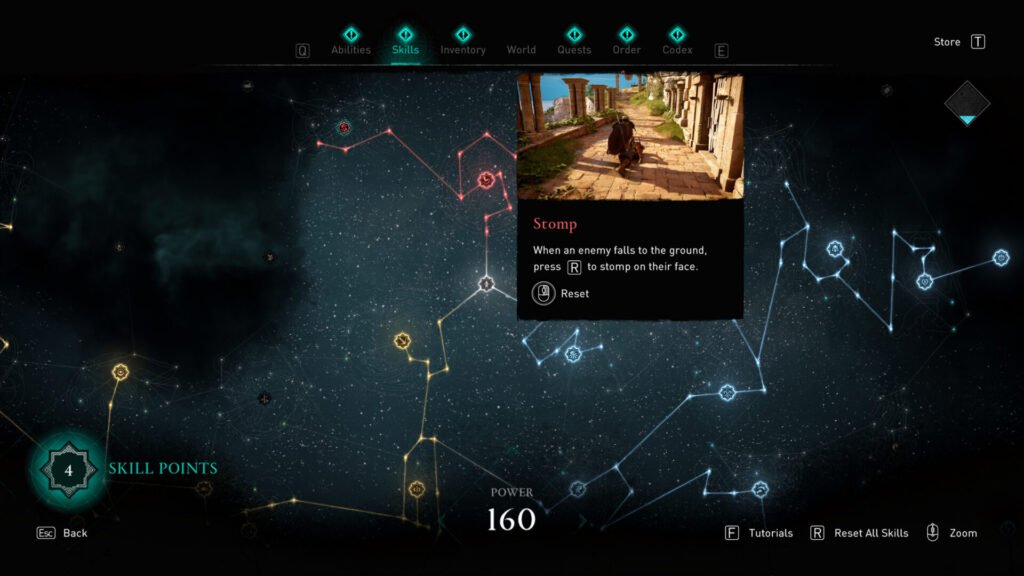 However, there are skills that you can activate manually. These skills are acquired through Tomes of Knowledge. These tomes can be acquired by playing the story but they're mainly acquired during the exploration of the world or by completing side quests.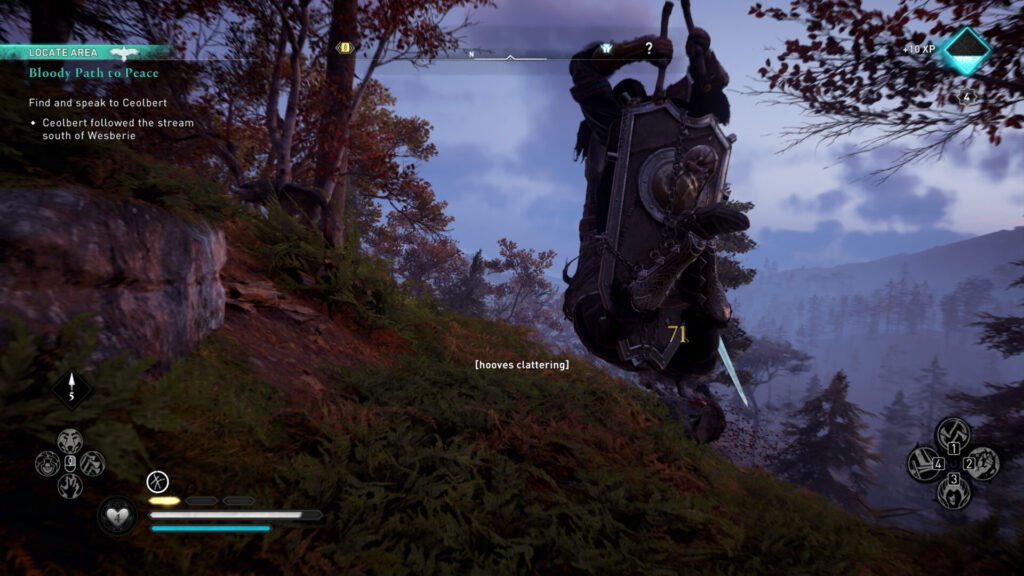 The Skill Tree gives you multiple ways to play the game. You could go down the Assassin's path and enhance your stealth abilities. Or you could choose to enhance your combat abilities and experience the game as a true viking. The amount of skill points you obtain during a playthrough is insane. Therefore, you can easily choose multiple paths without a doubt. This however, does make the choices you make in the Skill Tree feel meaningless. You have plenty of points to spend and you can reset them at any time.
Stealth Gameplay
An Assassin's Creed game is nothing without sneaking, shadows and assassinations. As mentioned earlier in this article, at the start of the game, Eivor and his brother are introduced to the ways of the assassins. And of course, the famous Hidden Blade makes its appearance too.
Although we have access to the Hidden Blade and other measures, the stealth gameplay has moved to the background in AC: Valhalla. In most cases it is more practical to rush into battle with your fellow Vikings. Also, the environment does not always lend itself for stealth gameplay. Villages, cities and settlements are scattered across England and feel disconnected. Whenever you are in a village, city or settlement there are ways to assassinate your targets with your Hidden Blade. However, using a bow is easier and practical. With a single headshot, which are easy to hit, you can take out enemies faster, from a distance and avoid detection.
Therefore, stealth gameplay feels dumbed down and optional. You can still play that way but there are more effective and faster ways to get to your target or complete an objective.
Environment & Ambiance
The environment in Valhalla is simply stunning. The forests, cities and fortresses are beautifully designed and are a pleasure to explore. Next to that, the game also has side quests that allow you to venture to other parts of the world. The change in environment that these side quests bring to the table are also very pleasant.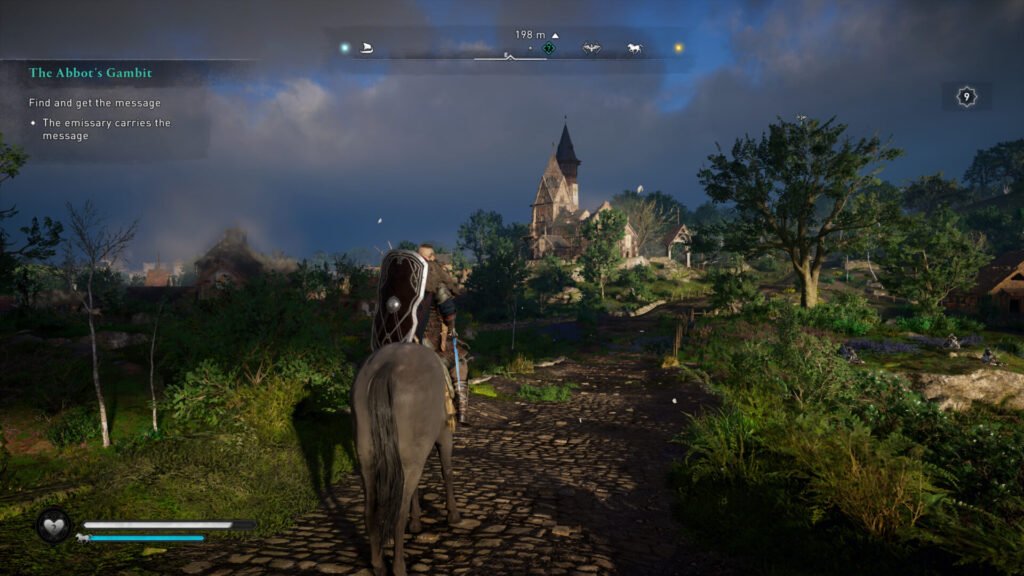 It is also notable that Assassin's Creed: Valhalla cleary took some inspiration from the Witcher 3. Especially in villages. There is a lot of poverty and a gritty ambiance is present. This is something that Ubisoft executed very well.
Music
The music in AC: Valhalla is also top notch. It fits the theme of the game perfectly. Here are three of my favorite tracks.
The First Departure is a track that usually plays after you successfully synchronized an eagle point. It also adds some extra mystery to the environment you are currently exploring.
Drinking night with friends? Pass that aux cable and make sure to blast When Horns Resound through their speakers!
Ready to fight? Getting chased? Or need to finish that nasty task at work? The sound of The Bearded Axe fits any situation!
Side activities
Valhalla has plenty of activities to participate in if you stray away from the main story. Some are beneficial if you want to make Eivor as strong as possible!
Ravensthorpe and Raids
If you want to feel like a true viking then make sure to participate in Viking Raids! Whenever you set out for raiding, you and a number of vikings plunder local villages in order to gather supplies. These supplies can then be used to upgrade Raventhorpe, your settlement. Raids can be found all over England and can simply be started by blowing your horn.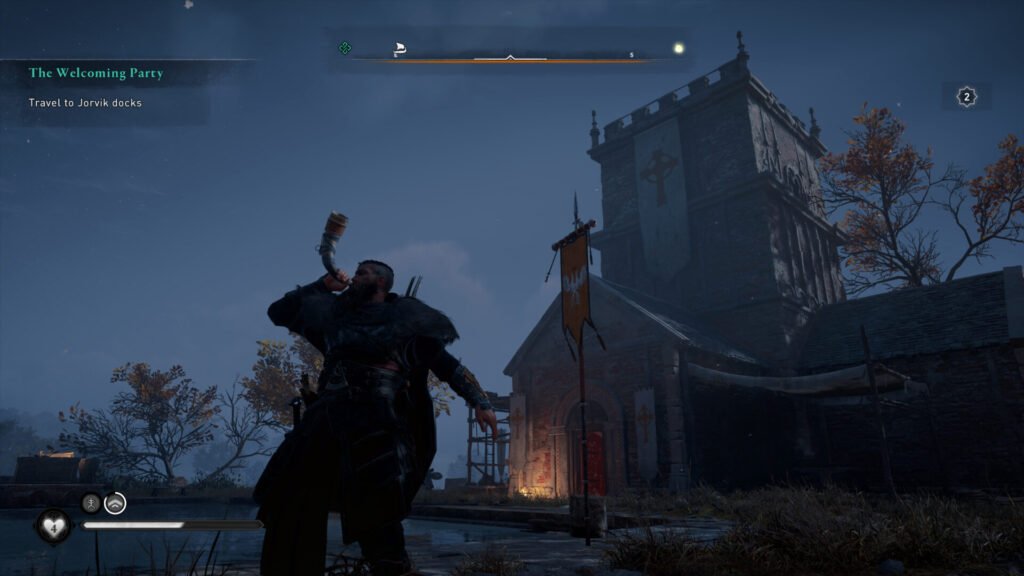 There are also River Raids. These can be started at the docks in Raventshorpe. These Rivers Raids are like treasure hunts. Here you have to manage your vikings and collect the treasures that are hidden along the rivers of England.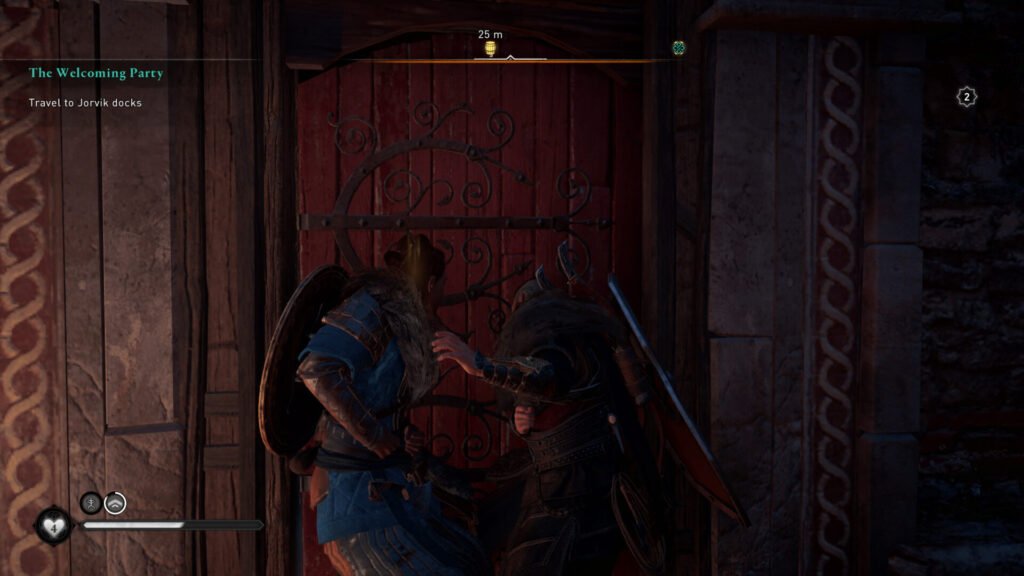 Collectables
AC: Valhalla is full of collectables. There are a number of different sparks (dots) you can find on your world map. Each of them has their own color.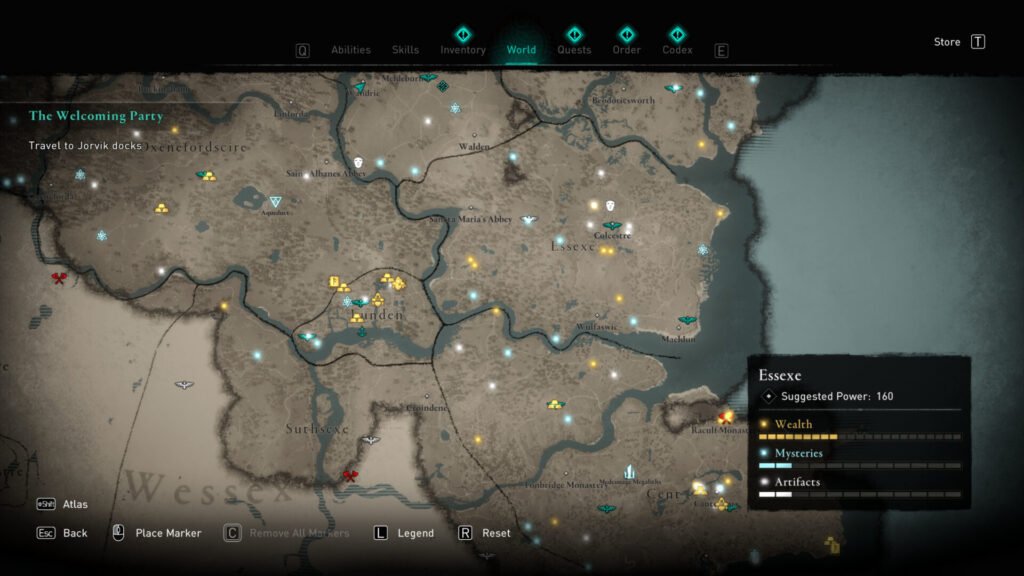 Gold Sparks
Gold sparks usually contain wealth. This can be in the form of crafting materials, tome of knowledge or unique armor.
White Sparks
White sparks are artifacts. These usually come in the form of a tattoo design or a roman mask. These are mostly aesthetic.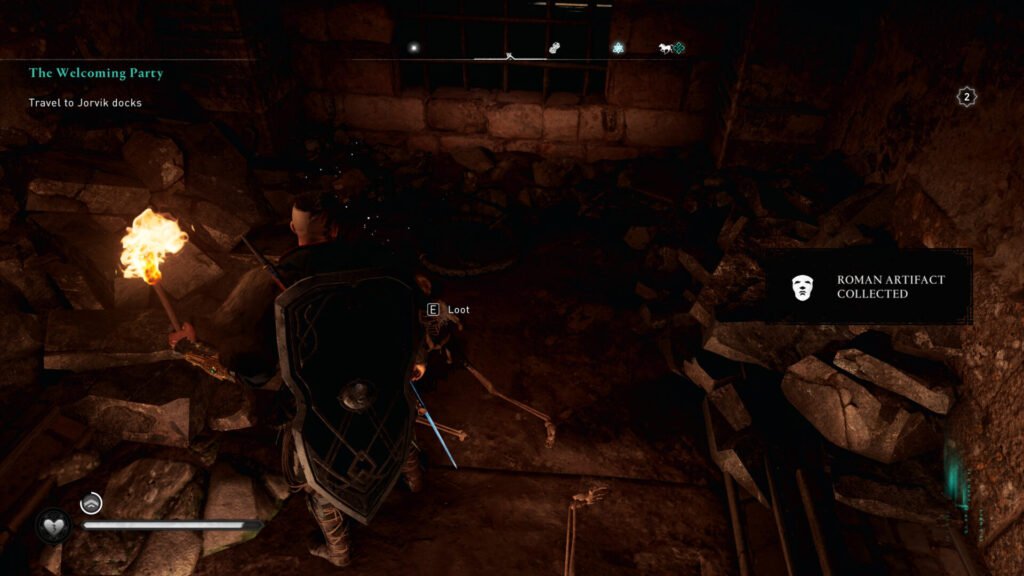 Blue sparks
Blue sparks are mysteries. Mysteries are diverse, they can be a mini quest to help a local villager or they can be a puzzle that you have to solve. Whenever you solve a mystery Eivor is granted 1 skill point. You can somewhat compare mysteries to World Events in Guild Wars 2.
Some of these mysteries are easy to solve. Others are somewhat harder. They are fun but can be somewhat repetitive.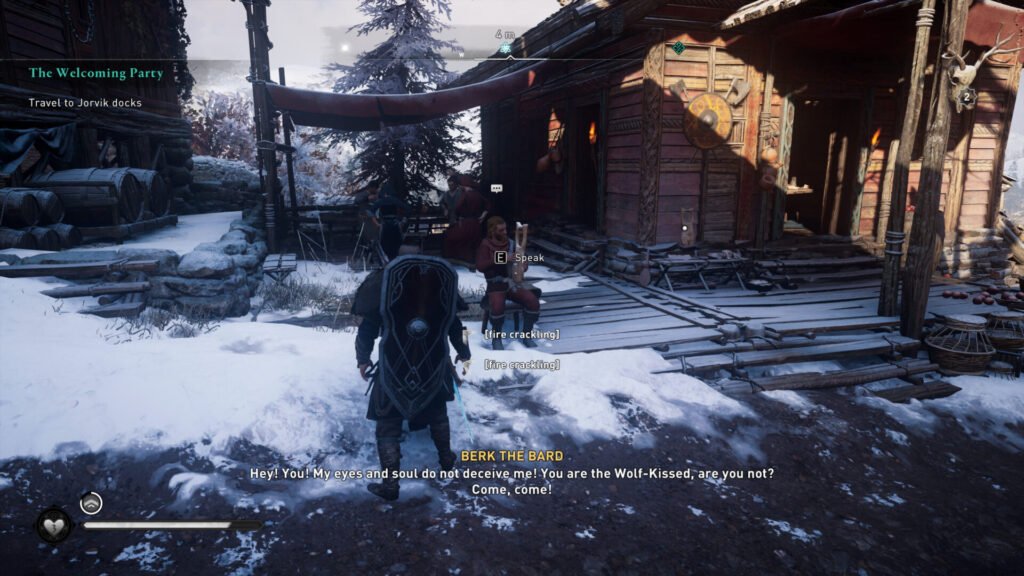 Flyting a.k.a. Rap battles
One of my favorite side activities in Valhalla was Flyting. You can compare these to rap battles.
Your opponent starts with a rhyme you have to finish. Your main goal here is to mock your opponent and respond with the best insult in rhyme. Whenever you successfully finish a flyting objective your charisma increases. This can open up more dialogue options with NPC's.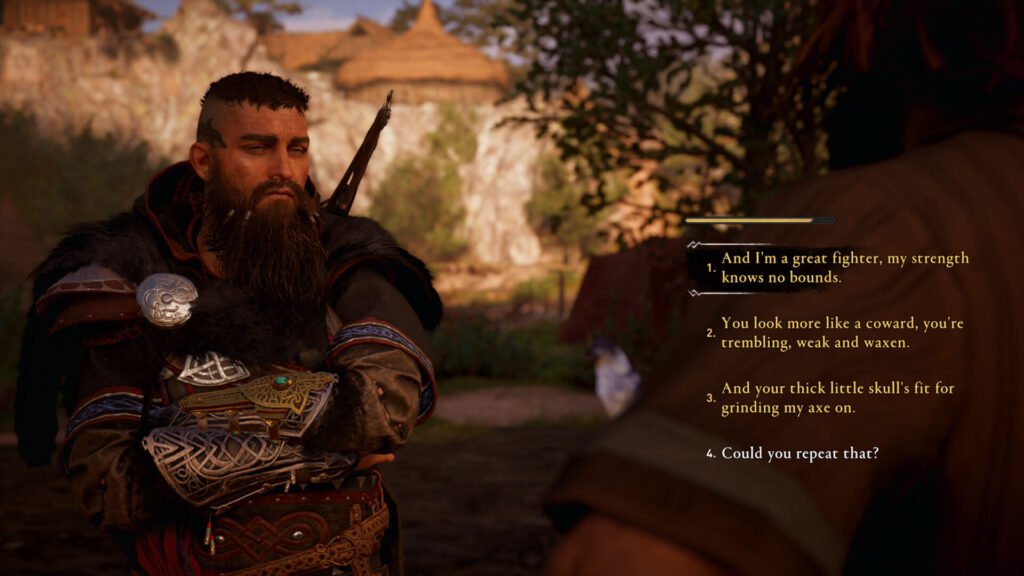 Is it good? My Review!
Assassin's Creed: Valhalla is a good RPG. It learnt from it's predecessors but did not add any innovative new features to the franchise. The Assassins and their cause feel absent. Sure, they are there but they don't play such a major role. The rest of the story is all right but feels long-winded. Especially in the middle section of the story.
The world has plenty of collectables and side activities which can easily add a 100 hours to your playthrough. However, even a completionist like me felt that there were simply too many collectables and I had to skip some of them. Also, some of these collectables feel unrewarding and repetitive.
Even though the game is not perfect, it does pull me back in all the time. I do want to keep exploring and uncover the mysteries of England. All in all, Assassin's Creed Valhalla is a good game. But I prefer Assassin's Creed: Odyssey over Valhalla. Give both games a shot and let me know what you think!
Assassin's Creed Valhalla review
Assassin's Creed Valhalla is a good RPG. The Assassins and their creed feel absent and it feels more like a side story. Valhalla built on what Assassin's Creed: Odyssey left behind but fails to add innovative features. The story and side activities are fun but can also feel repetitive and like a chore. All in all, give the game a shot. You'll have fun as a Viking, not as an Assassin.
User Ratings (

3

Votes)

7.6