The Secrets of the Obscure Expansion in Guild Wars 2 introduced a new daily system: the Wizard's Vault. The Wizard's Vault replaced the old Daily System and offers way better rewards! It's available for everyone. Even for Free to Play Players!
How does the Wizard's Vault work?
When you first open the Wizard's Vault, you will encounter a window that asks you to select your favorite game modes. Here, you have the opportunity to choose the game modes you regularly participate in.
Daily Objectives
Based on your preferences, you will receive daily tasks that you need to complete. In my case, this includes PvE and PvP, but you are free to pick any game modes you prefer.
You can modify these preferences at any time by clicking on the cog icon located in the top left. I personally find its current placement somewhat inconvenient, so it may be relocated to the top right in the future.
These tasks are relatively low-effort, with each one expected to take only a few minutes to complete. For example, you might need to complete an event in a specific area, craft ten items, or catch five fish.
Each completed task will earn you a small amount of Astral Acclaim. This Astral Acclaim is used to purchase Astral Rewards, which I will explain later in this article.
After you have finished your four daily tasks, you can open a Daily Completion Chest. This chest contains additional Astral Acclaim, gold, and luck. You can use luck to improve your chances of discovering rarer items.
The Daily Reset takes place every day around midnight. When it occurs, you will receive four new daily tasks to complete.
Weekly Objectives
Now that you have completed your first Daily, let's delve into the Weekly tab. The Weekly Tab, as you can probably guess, showcases tasks that refresh every week, specifically on Mondays at midnight.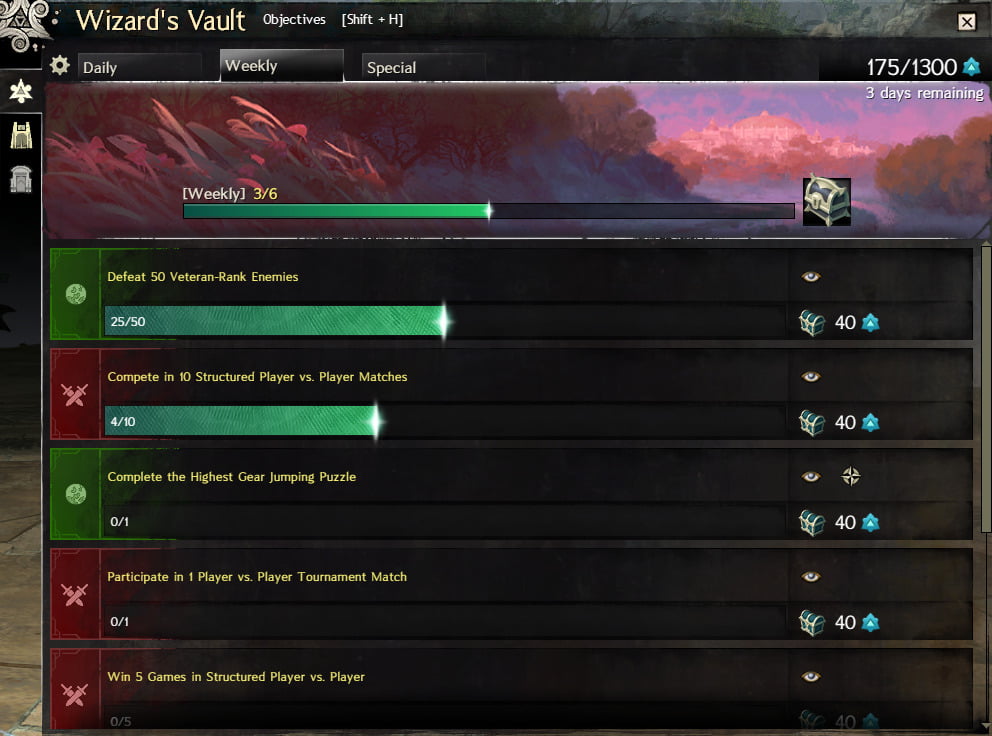 These tasks are similar to the daily ones but require significantly more effort to complete. You can think of them as extended dailies. For instance, while a daily task might require you to complete one event in a specific region, a weekly task might ask you to complete ten. Although the weeklies demand more effort, they also offer better rewards. They provide you with more Astral Acclaim, and the Weekly Completionist Chest offers extra rewards and Laurels, which can be used to purchase crafting materials and other items from specific vendors.
Typically, you will naturally progress and complete these Weeklies just by doing your dailies and playing the game. However, it's a good idea to regularly check them and perhaps adjust your focus to ensure you complete them by the end of the week. They are definitely worth the effort.
Special Objectives
The last tab is the Special tab, which contains bigger objectives that you usually cannot complete in a single day or week. These tasks might involve watching 12 different vistas in a new region or completing the Secrets of the Obscure story. It's challenging to predict how this tab will evolve in the future, but I am certain it will include tasks related to the story, leveling masteries, or completing more challenging achievements. The rewards for these tasks are significant and well worth pursuing.
Rewards
Astral Acclaim
The Astral Acclaim you've earned by completing daily, weekly, and special objectives can be located in the top right corner of the Wizard's Vault and is used to unlock various items and rewards.
All the Astral Acclaim you've accumulated has a clear purpose. On the left-hand side of the Wizard's Vault, you'll discover three other tabs. The first one houses your tasks or objectives, as we've just discussed. The second tab contains the current rewards, while the third one stores legacy rewards.
Clicking on the second tab takes you to Astral Rewards, where you can use your Astral Acclaim to purchase items, skins, crafting materials, and more. Your current Astral Acclaim can be found in the top right corner.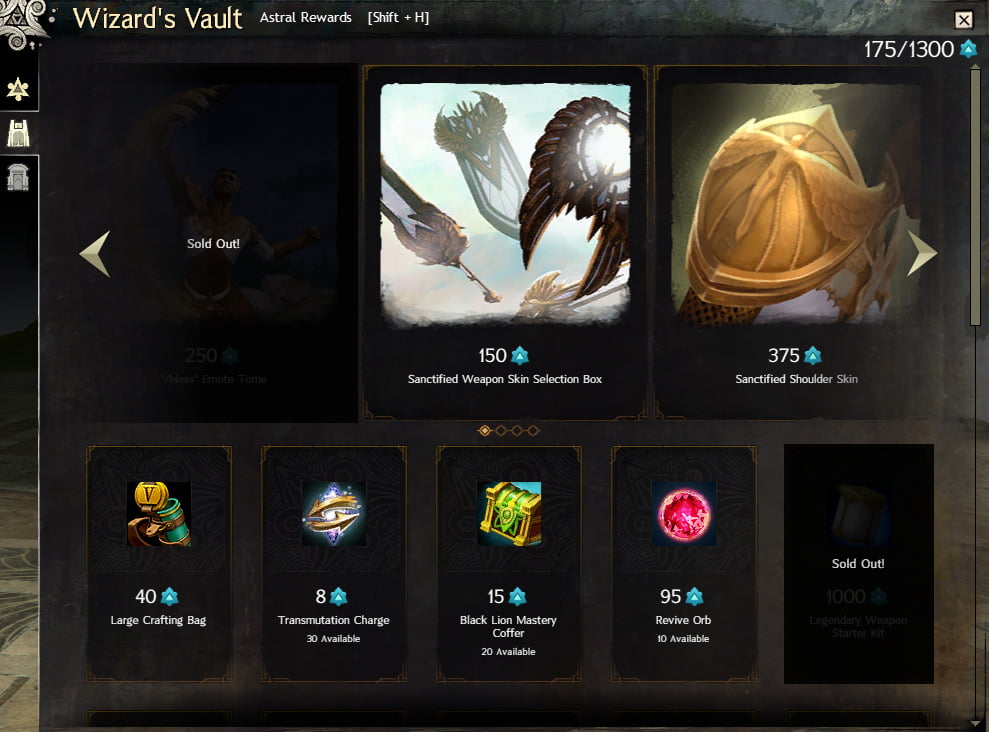 What are the best rewards in the Wizard's Vault?
There are plenty of videos and opinions out there on the best rewards to spend your Astral Acclaim on. While all of them have valid points, I personally prefer to invest in permanent skins and emotes since they can be used across all my characters. Check out the Bless Emote, for example!
There's also a chest that can grant you a precursor weapon for a Legendary Weapon, significantly speeding up the crafting process. It allowed me to craft the Legendary Sword, Bolt, in just a few hours since I had the remaining items on hand! Make sure to check if you have the remaining items before buying one of these boxes. You might still need some extra gold or materials.
Selecting a reward is entirely subjective and should align with your current in-game goals. Personally, I prioritize items with permanent or long-lasting value, such as skins, emotes, and Legendary Weapons.
But what if the rewards change over time, and you desire those from the past? Well, that's where the third and final tab, the Legacy Rewards, comes into play.
The Legacy Rewards are currently unavailable, but they will contain rewards from the past. So, if you decide to take an extended break from Guild Wars 2, there's no need to worry. You can always access rewards from previous periods in the Legacy Rewards tab.
So, what are you planning to spend your Astral Acclaim on in the Wizard's Vault? Let me know in the comments!