Ashes of Creation (AoC) is an upcoming MMORPG that, according to many, defines the way we look and play MMO's. Although the game looks extremely promising, its long development cycle and unclear release schedule can be a reason for concern…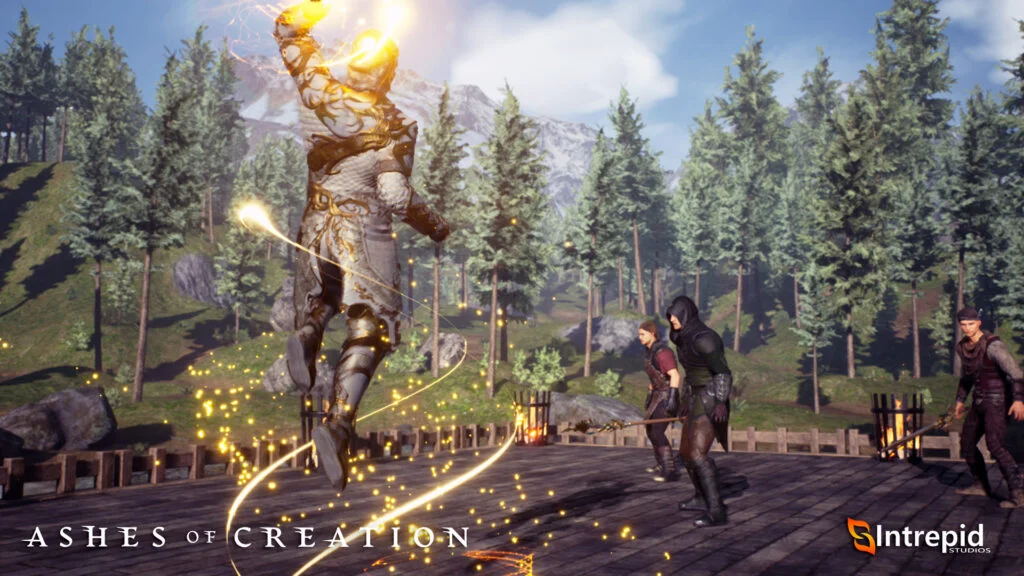 What is Ashes of Creation?
Ashes of Creation is an MMORPG that is set in a high fantasy universe. The universe is shaped by the choices of the players that play the game. Cities will rise and fall and unique quests and NPC's will appear based on the choices players made.
Ashes of Creation is under development by Intrepid Studios. This studio was founded by Steven Sharif, who has been an avid gamer over 25 years, and John Moore in 2015. With the founding of the studio, the team started developing Ashes of Creation.
Ashes of Creation is a Player vs. Everything (PvX) game. This means that PvE and PvP gameplay are intertwined with one another. A player will both encounter PvE and PvP elements in the game. Therefore, it is unlikely that a player can completely focus on just PvE or just PvP. The features blend together.
Although the gamemodes blend together, the PvE and PvP gamemodes have very distinct features. PvE gameplay revolves around 4 different features:
Quests
Open World Dungeons
Raids
World Bosses
There are a ton of ways to engage in PvP gameplay in Ashes of Creation. Maybe a bit too many if you ask me:
Caravan PvP
Castle Sieges,
Node Sieges
Guild Wars
Hunting Grounds
Naval PvP
Arenas
What races can you play in Ashes of Creation?
There are 5 playable racial groups in Ashes of Creation. These are divided into sub groups. In total that means that there are 9 playable races.
The first look video shows the visual appearances of some of these races.
What Classes can you play in Ashes of Creation?
First Archetype
Classes in Ashes of Creation are the result of two combined Archetypes. Once you have created your first character, you are able to choose your first archetype. This archetype cannot be changed. A list of all the archetypes can be found below.
| First Archetype | Role | Description |
| --- | --- | --- |
| Bard | Support | Provides your party with buffs and makes them better as a whole. |
| Cleric | Support | Protects allies and is able to siphon health from enemies. |
| Fighter | Damage | A mobile DPS archetype that focuses on melee combat. |
| Mage | Damage | Masters of the arcane that deal damage in a large area. |
| Ranger | Damage | Deals damage from afar with bow and arrow. |
| Rogue | Damage | Stealthy and able to disable enemies. Can also find hidden treasures. |
| Summoner | N/A | Are able to summon minions to deal damage, tank or support. |
| Tank | Tank | A shield for the party. Able to evade, control and protect. |
On the official Ashes of Creation YouTube Channel there is a preview of the Cleric Archetype. You can find the video down below.
Second Archetype
Once a player reaches level 25, you can choose secondary archetype. This archetype can be changed but does not provide any new skills. Here you can pick another archetype to create your class. For example, Bard/Cleric (double support) or Ranger/Rogue (Sneaky Sniper).
Once a player has selected two archetypes, the character has their own class. Since you can pick and choose your secondary archetype, there are a dozen of opportunities to play how you want.
This is extremely similar to the profession system from the original Guild Wars. At the start you were able to choose a profession and choose and change a secondary profession on the go.
Here is a lost of all the Class Combinations in Ashes of Creation:
Ashes of Creation Trailers
There are not too many recent official trailers for Ashes of Creation. Most of them date back to 2019. However, there are number that are worth sharing with you!
The latest Alpha teaser has some nice shots of the environment and snippets of gameplay that show what Ashes of Creation looks like!
The Seasons trailer below shows what the seasonal change does to the world of Ashes of Creation. This particular trailer was recorded in the Riverlands.
Ashes of Creation Release Date
No release date has been confirmed for Ashes of Creation. It is expected that the game's release will be in 2023.
The game's creators state that once a date is given, that will be the date. No further delays. They also state that they want to ship the best product possible. You can watch their statements in the video below at 57:30.
Development Timeline
As mentioned before, Ashes of Creation has been in development for a long time. Here are the most important development stages summed up.
December 15, 2017
Pre-Alpha
A series of tests focused on (server) performance. This beta was only accessible for a small number of players.
December 15, 2017
September 17, 2018
First Apocalypse Battle Royale Test
Focused on testing PvP on a large scale. This test had about 250 participants invited by e-mail.
September 17, 2018
March 10, 2020
Last Apocalypse Battle Royale Test
This test concluded a series of PvP tests. This test had about 10.000 Alpha-1 Backers.
March 10, 2020
March 27, 2020
July 9, 2021
Preview Weekend (non NDA)
A chance for a number of players to try out Ashes of Creation without any NDA.
July 9, 2021
December 1, 2023
Beta (not confirmed)
To be announced. Expected early 2023.
December 1, 2023
March 1, 2024
Release (not confirmed)
To be announced. Expected late 2023.
March 1, 2024
Also keep an eye on the Ashes of Creation Release Schedule on their official wiki. This page gets updated regularly and is more extensive then the compact timeline above.
How to play the Ashes of Creation Alpha/Beta?
For the upcoming Alpha and Beta tests you need an Ashes of Creation account. However, players that have purchased the pre-order pack get guaranteed access.
Free-to-Play, Buy-to-Play or Pay-to-Win?
Ashes of Creation MMORPG uses a subscription based model. This means you'll have to pay a monthly fee in order to play the game. Currently this monthly fee is estimated $14.99 USD.
The Apocalypse, the Battle Royale or PvP mode of Ashes of Creation, is free to play.
As stated on their FAQ, there will be no Pay-to-Win (P2W) items in Apocalypse or the MMORPG.
Ashes of Creation Reddit
Ashes of Creation also has their own subreddit. You can find all the Reddit posts on /r/AshesofCreation. Here is a collection of the latest posts.
More information coming soon…