The Harbinger is the End of Dragons Elite Specialization for the Necromancer. If you like Witch Doctors, guns, alchemy and elixers then the Harbinger Elite Specialization is a perfect fit for you! The Harbinger drops the Necromancer's Death Shroud ability for the Harbinger Shroud. However, the usage of this shroud comes at a cost…
Harbinger Shroud
As a Harbinger, the Necromancer loses the ability to use the Death Shroud. Instead the Harbinger can use the Harbinger shroud. The Harbinger Shroud is similar to the Death Shroud but it has more mobility.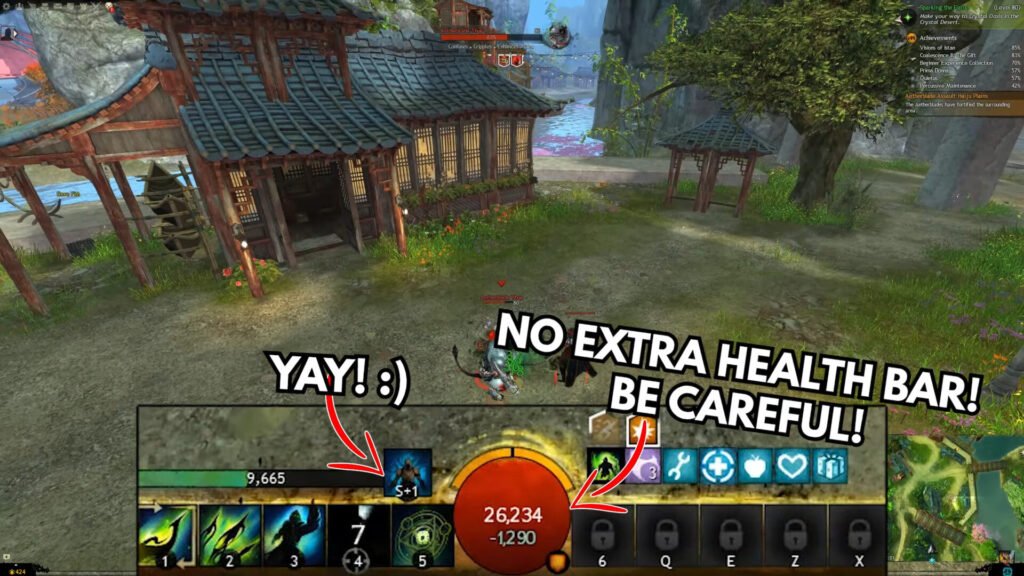 Skills like Devouring Cut, which launches your at your foe, or Voracious Arc, that let's you leap towards the targeted area are a great source of mobility.
The Harbinger Shroud also contains a strong Crowd Control skill; Vital Draw. Vital Draw lifts up a number of enemies that are next to you for about 3 seconds. This gives you plenty of time to heal, deal more damage or escape a fight.
Beware of Blight… or not?
While in Harbinger Shroud, the Harbinger will also accumulate Blight. About every second the Harbinger will gain a stack of Blight which reduces their health by 1.5%. Blight can stack up to 25 times which in total can reduce your health by 37.5%!
However, the Harbinger can also turn Blight into their advantage by selecting specific traits. For example, Septic Corruption increases your Condition Damage based on the amount of Blight the Harbinger has accumulated.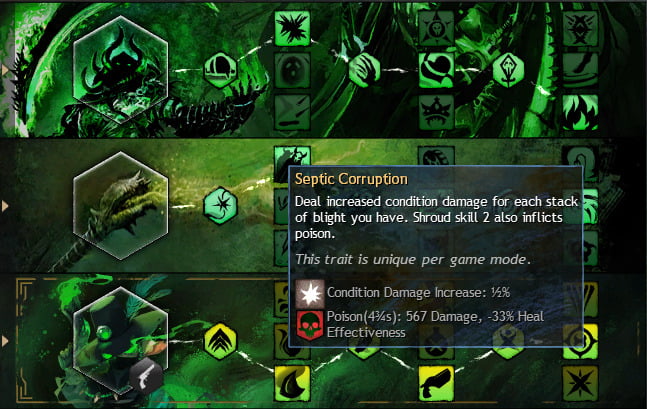 Harbinger (Pistol) Weapon Skills
The Harbinger can also use a pistol in their main hand. The pistol is great at rapidly applying conditions to your enemies. The Harbinger pistol skills all have a range of 900 which is considered mid to long range.
Vicious Shot
Vicious Shot fires a bullet that applies Torment to enemies. The bullet also bounces between enemies. This is similar to the Thief's Trick Shot. This is extremely useful whenever you want to farm or tag a number of mobs.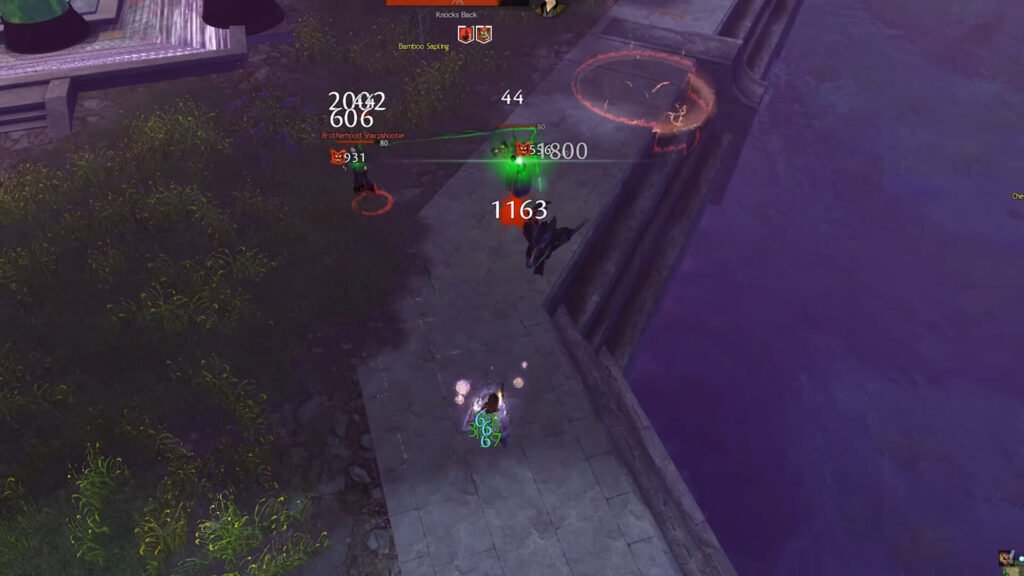 Weeping Shots
Weeping Shot fires a number of piercing bullets at your target. Each bullet inflicts Torment and Vulnerability. You'll also gain life force for the first target hit by each bullet.
Vile Blast
Vile blast fires a shattering bullet at your target. When the bullet hits it will stun, weaken and poison your target. You gain life force for each target you hit with the shattering bullet.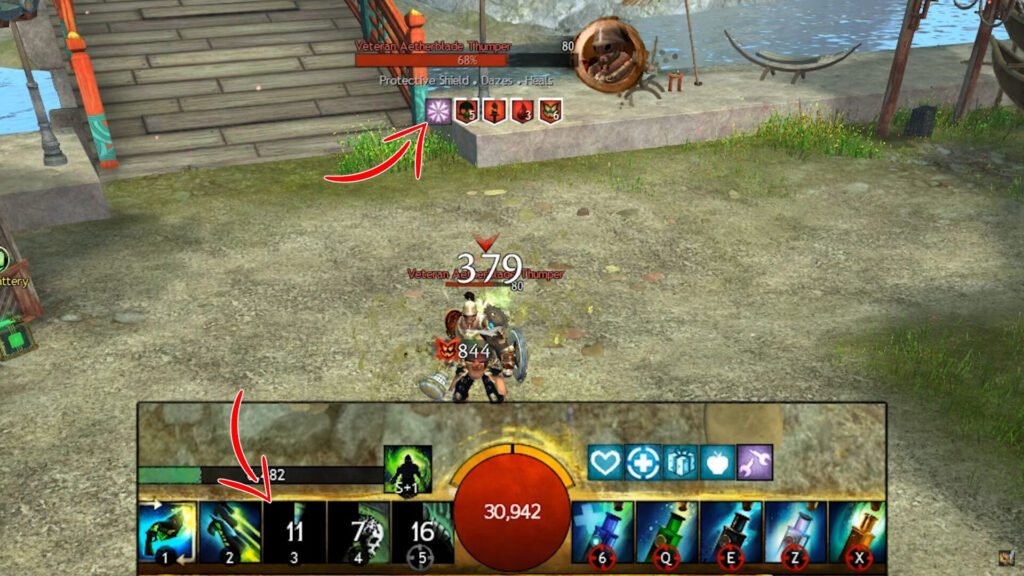 Elixers, your new utility skills
All of the Harbinger's Utility Skills are Elixers. You can toss these Elixers to your preferred location. Whenever you use an Elixer it will also grant you a boon. If an enemy is hit by one of your Elixers it will also inflict a condition to them.
If you stand in the impact area of one of your own Elixers, you will also gain stacks of Blight. As stated before, Blight reduces your maximum health pool but can also be used to increase your healing and outgoing damage.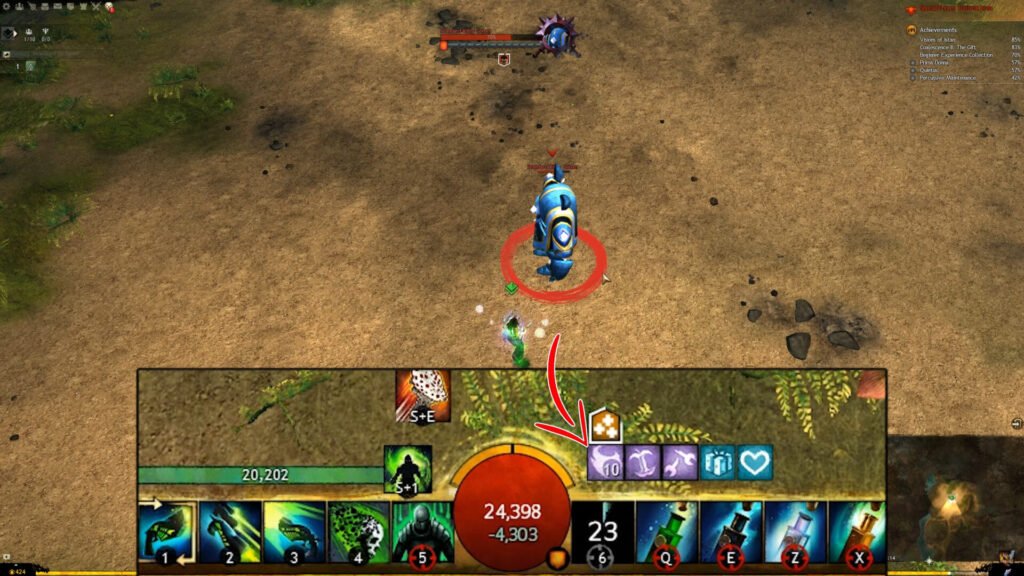 Traits to support and DPS
The Harbinger also gains a number of new traits. These traits increase your outgoing damage and healing the more Blight you have accumulated. For example, Wicked Corruption increases your strike damage the more Blight you have.
Many of these traits also increase the effectiveness of your Elixers. Twisted Medicine for example. This trait shares the boons you get from Elixers with nearby allies. You'll also gain concentration (boon duration) based on your vitality (total health).
The table below shows a list of current Harbinger traits found on the Guild Wars 2 Wiki.
Harbinger PvE build
As described before, the Harbinger traits increase the effectiveness of Elixers, turns Blight into your advantage or increases your strike damage.
If you are looking for a great Open World PvE Harbinger build, try out this one out. You can copy the following build template and paste it in the in-game chat or save it to one of your build templates.
[&DQgTHgIVQCebABIAcAF3AXYA9QDkAL0BlQCVAAAAAAAAAAAAAAAAAAAAAAA=]

Vallun's PvE Harbinger Build
The build is created by Guild Wars 2 content creator Vallun. Vallun is an experienced PvP'er and your go-to source for PvE, PvP and WvW builds. Check out his video explaining the build.
Ranking the Harbinger Elite Specialization
I love the Harbinger. Although the Blight mechanic put me off at first, I found it to be a great source of damage and survivability. It's actually one of the more accessible Elite Specializations in End of Dragons! If you have enough Vitality on your armor and weapons, then this will convert into damage with traits like Dark Gunslinger.
Also, the Twisted Medicine trait allows the Harbinger to support allies. Therefore, the Harbinger is not just an Elite Specialization focused on damage but you can also bring it into group play.
I think that the Harbinger will get a prominent role in end game PvE setups. Both as a support and a DPS. This is an Elite Specialization that I look forward to playing more!
What do you think about the Harbinger? Leave a comment!
Harbinger Review
The Harbinger is a Elite Specialization that can both support and do a great amount of DPS. It's unique and feels nice to play. Beware of the Blight mechanic, this can be harder to manage and understand for new players.
User Ratings (

3

Votes)

6.8