Strike Missions, Raids, Dungeons, Fractals, Meta Events… You've reached level 80 and what endgame content should you now? And, what should you do first? Let's go over all the endgame content in Guild Wars 2, where to find them, how difficult they are and where to start.
Preparation
Before you hop into raids, strike missions or anything else, you want to do these three things first.
The Main Story
At level 80, the first thing you should do is finish the main story in Guild Wars 2. The story takes you through the world of Tyria and this gives you the opportunity to unlock extra waypoints. This comes in handy when you want to return to a specific place for an event or collection.
The main story lays a great foundation for the stories that can be experienced in the Expansions and Living World Seasons. Numerous story instances even grant you new armor and weapons.
This allows you to gear up your character for future endgame activities.
Unlock Elite Specializations
If you own any of the expansions, I highly encourage you to unlock Elite Specializations. Elite Specializations allow you to select another trait line in your trait panel. These Elite Specializations are enhancements for your current profession or class. Using these also grants you access to new skills and a new weapon you can use. You can simply unlock these by completing Hero Challenges in the Expansion maps.
Gearing up
When gearing up for endgame content, it's recommended to have at least Exotic gear. You can recognize these armor sets, weapons and trinkets by looking at their orange border or their orange text.
These armor sets can be obtained in various ways. They can be acquired by participating in Meta Events. You can also get them from the Trading Post, a number of merchants or by crafting them.
I'd suggest crafting these first Exotic Armor Sets, however this requires you to have a crafting level of 400. To reach level 400 for a specific discipline, it will take you a few hours and a bit of gold.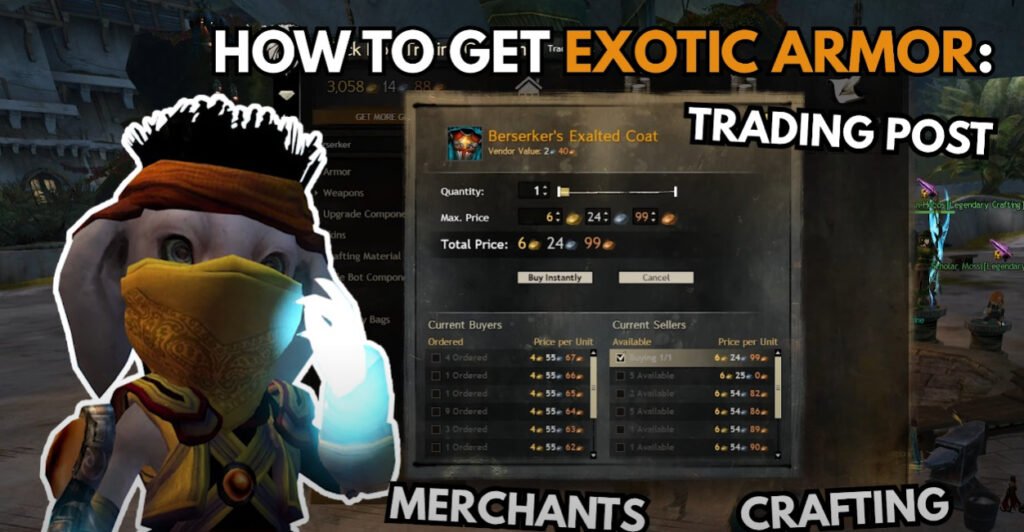 Before you start crafting, make sure to look for a build on Snow Crows, Discretize, Meta Battle, Guildjen or any other source. These websites have great builds for endgame content and also show what gear, weapons and trinkets you have to use. Once you know that, you can get to crafting!
In most cases I'd recommend getting Ascended Gear. Ascended Gear is slightly better than Exotic Gear and can be recognized by their pink borders or their pink text. However, this gear is hard to acquire so I won't let this hold you back from the endgame content!
Meta Events & World Bosses
Location: Everywhere
Expansion Required: No
Time Required: Minimal
Profit: Low/Medium
Difficulty: Easy
Meta Events and World Bosses are an accessible and low time-commitment option for both new and veteran players. These events can occur anywhere in the world, and while some may be tied to specific expansions, they do not require specific gear or expansions to participate.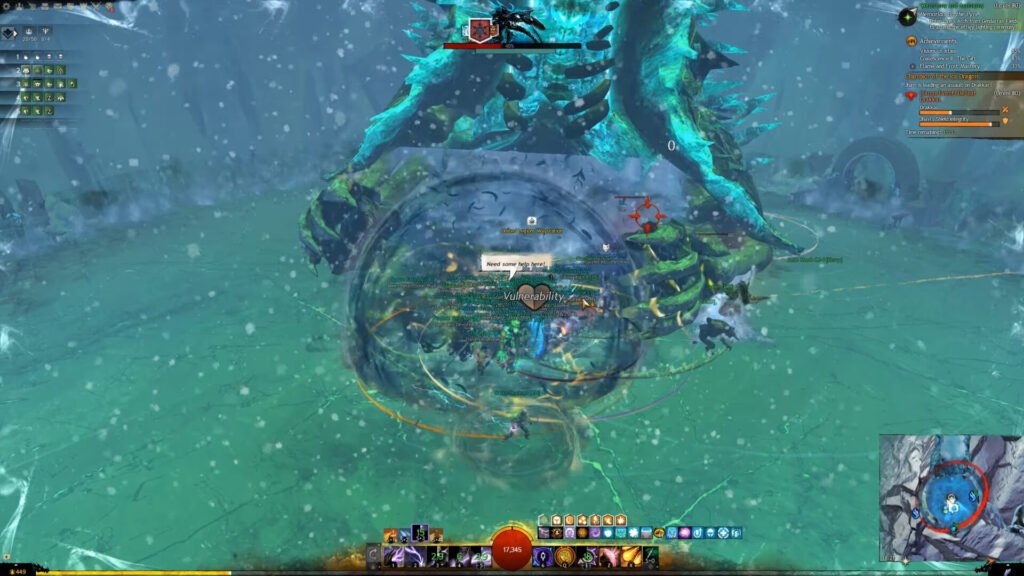 Meta Events occur at specific times or when players on a map complete certain tasks. Once completed they often offer valuable loot, achievements, and gold. Especially the meta events in the Heart of Thorns expansion can be very profitable.
The more profitable events usually have a significant number of players participating. So, you're never alone and there is always someone that is willing to explain that specific meta event or world boss.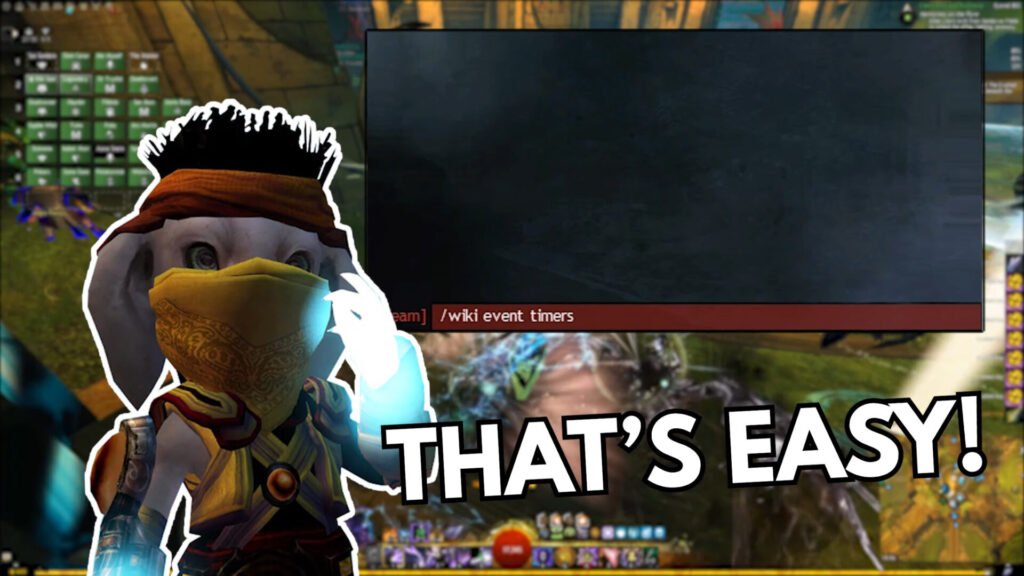 To find and participate in these events, you can find a timetable on the official Guild Wars 2 Wiki. You can easily access the time table by typing "/wiki event timers" or "/wiki et" in the chat and pressing enter. This will open your default browser and takes you directly to the correct page. Here you can also find chat codes that directly take you to the closest waypoint near the event.
You can also find groups that organize so-called "Meta Event Trains" that do a number of meta events in a row. You can easily find these groups in the Looking For Group panel. This is also a great way to get to know new people!
Strike Missions
Location: Eye of the North and Arborstone
Expansion Required: Yes – Path of Fire and/or End of Dragons
Time Required: Minimal
Profit: Medium (depends on boss)
Difficulty: Medium/Hard (depends on boss)
Strike Missions are short 10-player boss battles. These Strike Missions are short 10-player boss battles that are considered to be a bridge between open world content and raids. The missions take instances from the Living World and Icebrood Saga stories and turn them into difficult battles. This makes them recognizable and accessible for everyone!
Strike Missions are fairly short. Some won't take you longer than just a few minutes.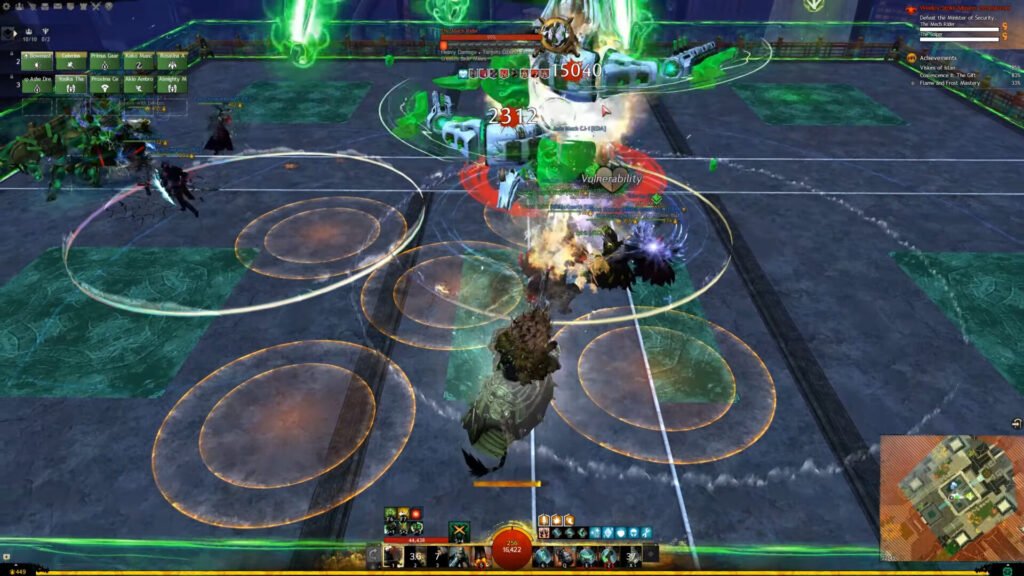 Some Strike Missions are easy and can be done on almost every character with half decent gear.
Whilst others require you to have the best gear possible. For example, the Shiverpeaks Pass, Fraenir of Jormag and the Voice and Claw of the Fallen do not require much team coordination or gear. Whilst the Whisper of Jormag, the Boneskinner and the Harvest Temple are difficult and require coordination and good gear.
Strike Missions are exclusive to players that own the Path of Fire expansion and beyond.
Once you have completed a Strike Mission you get a number of Shards that you can exchange for rewards in Eye of the North. There are also daily strikes that give an extra reward once you complete them.
The more difficult strikes often require players to bring a Kill Proof, often abbreviated as "KP".
When players ask for that, you know that this is a very experienced group!
To join a Strike Mission, head on over to Eye of the North for the Icebrood Saga Strike Missions.
Or head on over to Arborstone for the End of Dragons Strike Missions. Then, head on over to the Looking for Group panel and join a group for a Strike Mission!
Dungeons
Location: Eight different locations
Expansion Requied: No
Time Required: Minimal
Profit: Low
Difficulty: Easy
Dungeons are 5-player instances where the player has to navigate through a number of enemies and puzzles to reach the final boss. These dungeons were in the game when it was first released in 2012 and do not require any expansion. So, it is one of the oldest pieces of endgame content in the game.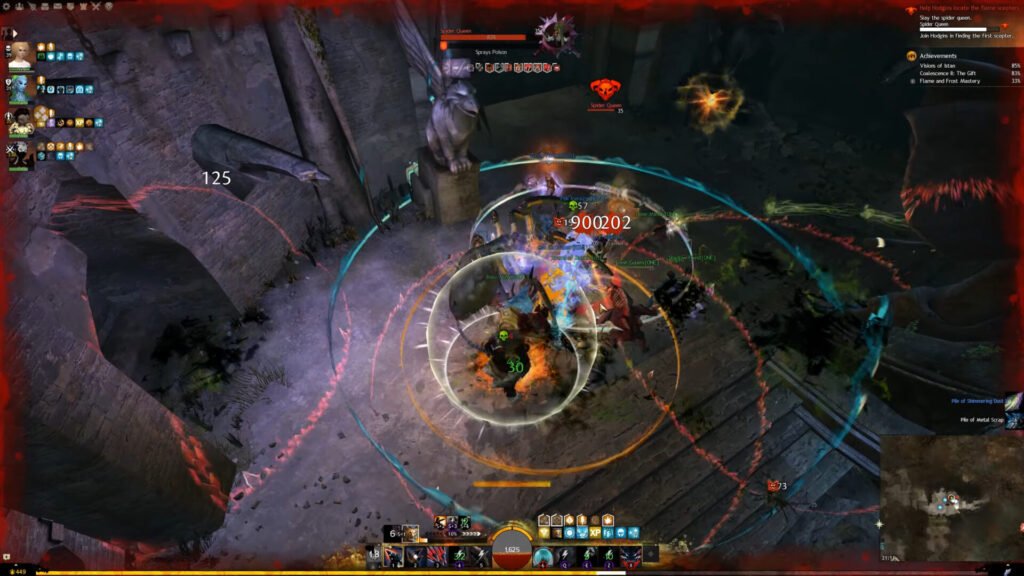 There are 8 dungeons in the world of Guild Wars 2, all scattered around the world. All dungeons have different stories and paths you can follow.
In order to unlock a dungeon, you must reach a specific level. Some require you to be level 80, while the first one, the Ascalonian Catacombs, only requires you to be level 30. You must complete the Story Mode of a dungeon before they can play the Explorable Paths, which offer different stories and bosses.
A single dungeon instance should take you about 20-30 minutes to complete. However, it can take you longer but this depends on the experience of your party. It also does not require you to have specific gear.
Dungeons are a great way to acquire gear for your character. Once you complete a dungeon it rewards you with a currency called "Tales of Dungeon Delving". The currency can be exchanged for gear and runes in Lion's Arch. The Tales of Dungeon Delving make it easy for new players to acquire Exotic Gear and specific runes. Take for example, the Runes of the Nightmare. These runes are often used in Condition or Damage over Time builds. These runes can be acquired by exchanging those Tales of Dungeon Delving.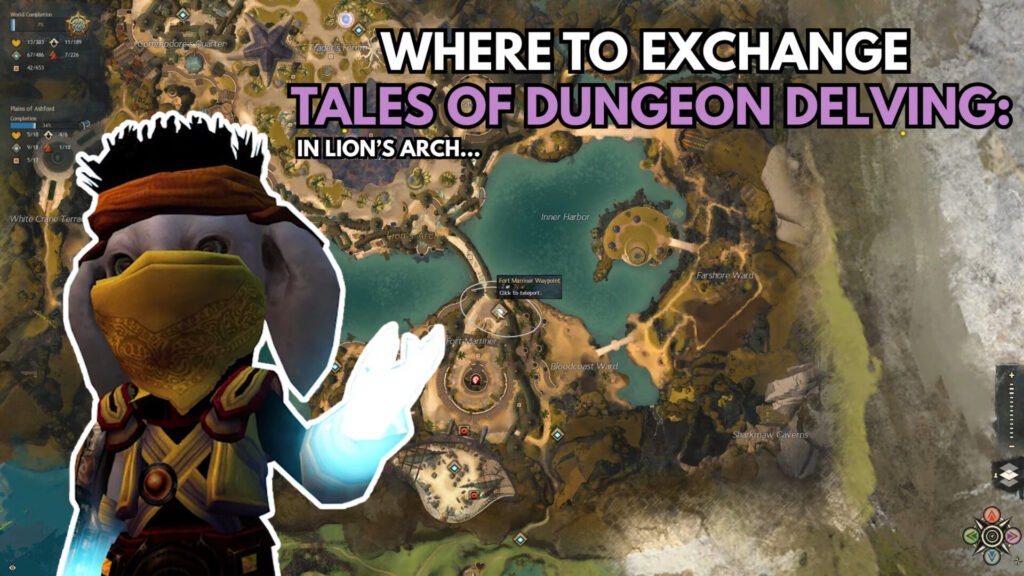 Joining dungeons is easy. Like Strike Missions, you head on over to the "Looking for Group" panel and look for a group there. Each dungeon has its own tab where you can find a group for a specific dungeon.
Although Dungeons are great for getting your first set of Exotic Armor, there might not always be a lot of people around for a specific dungeon. This is mainly because dungeons are not very lucrative for veteran players. I highly recommend doing dungeons to get gear and specific runes!
Dragon Response Missions
Location: Eye of the North
Expansion Requied: Path of Fire – Icebrood Saga
Time Required: Medium
Profit: Low/Medium
Difficulty: Easy
Dragon Response Missions are a more niche piece of endgame content. The Dragons Response Missions are small 5-player, story-like scenarios. Similar to dungeons. They have typical story-like objectives and have a boss at the end.
Dragons Response Missions can either be done solo or with a party of 5. If you want to do it fast, I'd suggest getting a party. Players are always better than the NPCs.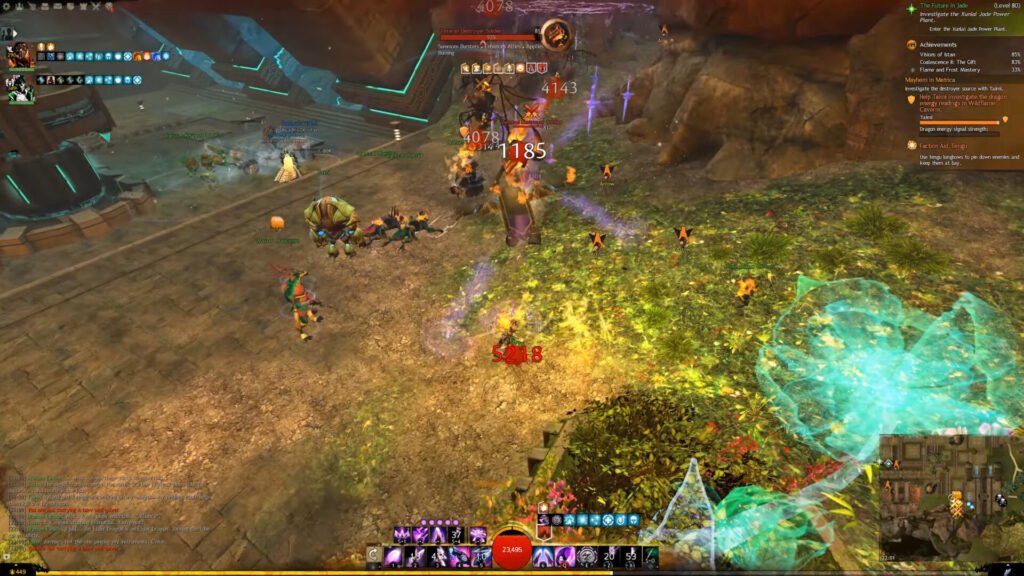 The missions are accessible and do not require specific gear to complete. But it is faster if you bring decent gear, like at least Exotic Gear, with you! A single Dragon Response Mission takes about 15 to 20 minutes to complete. So, it can be easily done in between your daily tasks on an alt that has suboptimal gear.
It is niche content and therefore it is not as well populated as Raids, Fractals or Strikes. But it can reward some good materials and unique weapon skins. Definitely worth playing if you are looking for tier materials or some new drip for your character.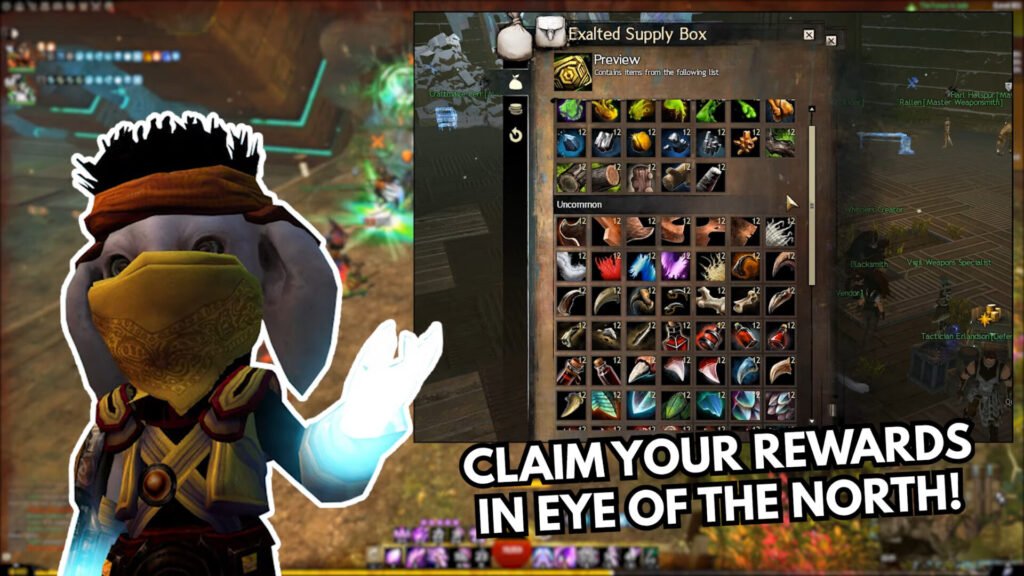 Joining a Dragon Response Mission is easy. Head on over to Eye of the North or Arborstone and walk up to the portal at the back of the outpost. Here you can select whether you want to join solo, join a random group or want to bring your own party of players.
If you want to bring your own party, it works a little different than other endgame content. Head on over to the "Looking for Group" panel and navigate to Central Tyria. Under the "Parties" tab you can create a group for a specific Dragon Response Mission.
Fractals of the Mists
Location: Lion's Arch
Expansion Requied: No, but recommend to have at least one.
Time Required: Medium/Long
Profit: High
Difficulty: Hard
Fractals of the Mists are a series of mini dungeons that increase in difficulty. You can enter these Fractals with a party of 5 and they do not require an expansion to play. However, in later levels it is expected to have a build that requires an expansion.
When you first enter a Fractal you have to start at level 1. Once you complete that first level you can progress to level 2 and so forth. The maximum level is 100 so you have plenty of Fractals to grind through.
In later levels, these Fractals get significantly harder. In higher Fractal levels encounters a damage over time effect called Agony. At first, Agony does not deal that much damage. You can easily outheal it. However, when you progress in the difficulty, Agony can kill you in a second. You won't be able to outheal it.
To overcome this effect and be able to clear higher level Fractals, you must have Ascended Armor and Agony Infusions. These Infusions are applied to Ascended Armor in order to protect yourself from Agony. The infusions dampen the damage over time effect of Agony.
These Agony infusions are obtained after you have successfully finished any fractal. So, save up those infusions you get from those earlier Fractals to protect yourself in later Fractals.
A single Fractal can take up 15 to 30 minutes of your time. This highly depends on your party's experience and the particular Fractal you are going to complete.
The gear you need for later Fractals, Ascended Gear is somewhat harder to obtain. This is also due to the fact that this one of the better armor tiers in Guild Wars 2.
The rewards in Fractals of the Mists are great. You can easily sell the loot you obtain from Fractals of the Mists for a lot of gold. Completing Fractals also grants you Fractal Encryptions which can be opened or sold on the Trading Post.
If you are ready to join a Fractal then here's how to find a group for it. The entrance of the Fractals of the Mists can be found at the southern part of Lions' Arch. To find a party, simply navigate to the Looking for Group panel and open the Fractals of the Mists tab. Here you can find different tabs for each tier of the Fractals of the Mists.
Raids
Location: Lion's Arch Aerodrome
Expansion Requied: Yes – Heart of Thorns and/or Path of Fire
Time Required: Long
Profit: High
Difficulty: Hard
Like most MMOs, Guild Wars 2 also has Raids. Raids are 10-player encounters that require specific team setups to complete. Raids also require at least the Heart of Thorns or Path of Fire expansions.
Raids are divided into wings. These wings all have about 4 encounters per wing. Each encounter has its own unique mechanics and requires specific tactics to complete. The Raid Wings are also tied to specific expansions, the earlier raids are tied to Heart of Thorns expansion. The later raids are tied to the Path of Fire expansion. And future raids will be tied to the End of Dragons expansion.
In contrast to Fractals of the Mists, it is not required to have Ascended Gear to complete a raid.
Exotic gear will suffice. However, I do recommend bringing Ascended armor for that extra bit of damage or support.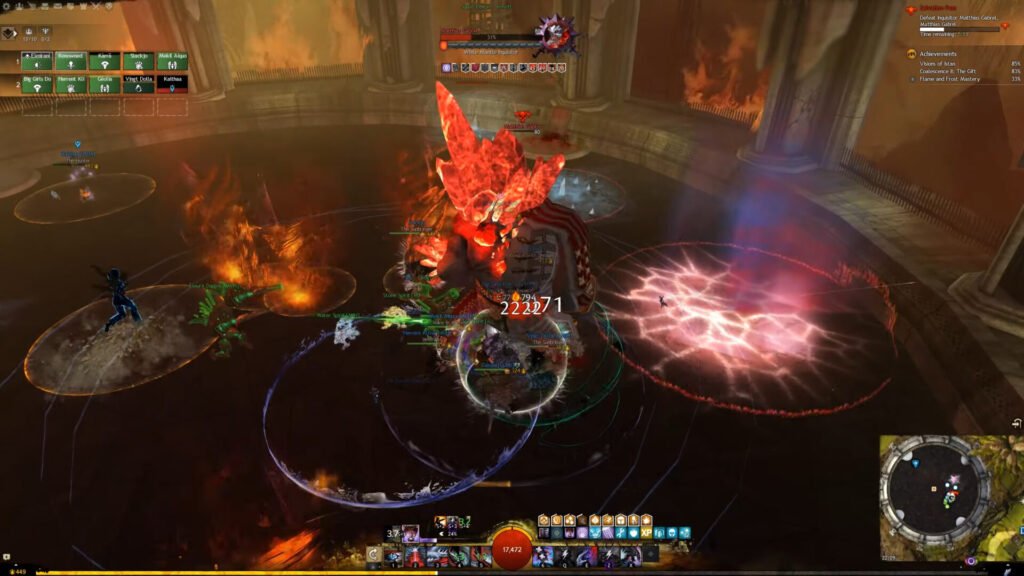 A single Raid Wing will take you about 30 to 60 minutes to complete. Like Fractals of the Mists, this highly depends on your group's experience. If you are entirely new to Raiding then it might even take you longer than 60 minutes to complete.
For finishing an encounter, you will gain gold, an Exotic weapon, Magnetite Shards and Legendary Insights. The last two are the most important rewards.
The Magnetite Shards can be exchanged for Ascended Armor and for Legendary Armor Components. The same goes for Legendary Insights. However, these Legendary Insights are often used to show as proof of your skill and dedication. This is the "KP" or Kill Proof that we discussed in the Strike Mission section of the video. Many more experienced groups in Raids, Strikes and Fractals often ask you to show your Legendary Insights before you are allowed to join their group.
Joining a Raid is similar to joining other groups. Open the Looking for Group panel and navigate to the Raid tab. Here you find listings for different Raid Wings or Encounters. Most of the time, the listing also shows the required Legendary Insights that are required to join a group.
Since Raids require good group coordination it is advised to start raiding with a group of people you already know. They can teach you the ropes of each encounter. Don't have any friends or a guild? Join the Raid Training Initiative or another Discord Server. These groups are aimed to teach new players on how to play specific encounters and Raid Wings.