Palia is an upcoming MMO under development by former Epic, Riot and Blizzard Entertainment employees. Palia aims to be a massively multiplayer community simulation game (MMCSG) and thus focuses on building an online community.
What is Palia?
Palia is a massively multiplayer community simulation game (MMCSG) developed by Singularity 6. In Palia you can build your own home, vegetable garden and get together with other players.
In an interview with Techcrunch, a developer stated that Palia is inspired by games like Animal Crossing, Stardew Valley and The Legend of Zelda: Breath of the Wild. We can clearly see their inspiration in the trailer and screenshots shared on Palia's official website.
Palia has a number of activities players can participate in:
Fishing
Foraging
Hunting
Mining
Cooking
Bug Catching
Gardening
Furnishing
Palia Character Creation
On the 18th of July 2023, the Palia Character Creation was revealed during an official livestream on the Palia YouTube channel. The extensive character creation process was shown from beginning to end.
The Character Creation starts at 5:20 in the video below:
Palia's Game & Announcement Trailers
In Palia's Officicial Announcement Trailer you can really see their inspiration from games like Animal Crossing and Stardew Valley. It also shows the peaceful and vibrant environment. You can check out the trailer below!
On their official YouTube channel you can also find a short video with in-game music, some animations and their attention to detail. It seems to be that this was recorded in Kilima Village. Check out that video down below.
Palia Release Date
As of right now, there is no information about a release date for Palia.
The MMO is currently in an Alpha testing phase and there will be more playtests in 2022.
Palia Alpha
As stated before, Palia is currently in an Alpha testing phase. This means that the game is currently accessible for a select number of players.
Alpha Sign Up
You want a chance to play Palia before its release date? If so, you can sign up for the Alpha testing phase. Simply go Palia's official website and press the big 'Sign Up' button on their home page.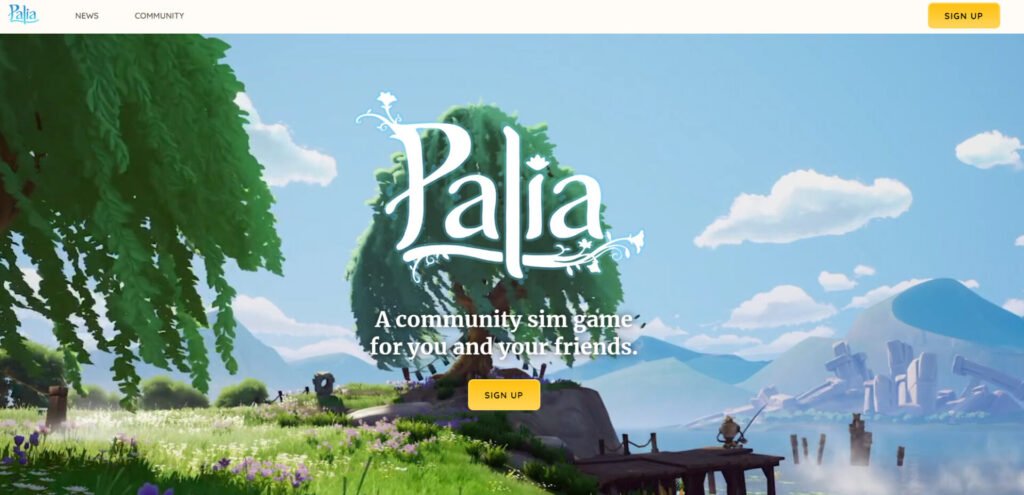 Keep in mind that you are not guaranteed to play Palia's Alpha test. Only a select number of players are invited to play!
When is the Palia Open Beta?
Palia is going into open beta on August 10, 2023! Everyone who has created a Palia account is free to join. Check out the timer below, which shows the number of days until you can play the public/open beta.
Countdown
The release of the open beta was also accompanied by a brand new trailer!
Palia Reddit
There are currently two subreddits dedicated to the Palia MMO. There is /r/PaliaMMO and /r/PaliaTheGame. The /r/PaliaMMO seems to be more active than the latter. Here are number of their latest posts.
Latest posts from /r/PaliaMMO
Here are the latest posts from the /r/PaliaMMO subreddit:
Latest posts from /r/PaliaTheGame
Here are the latest posts from the /r/PaliaTheGame subreddit:
Is Palia Free-to-play?
Yes, Palia is completely Free-to-Play (F2P)!
As mentioned in Palia's Business Model, only cosmetic content is monetized. So, if you want an awesome exclusive hat you might have to pay a few bucks to get it.
This also means that the game is NOT Pay-to-Win! There will be no items that give you a significant advantage over others.
Also check out Dadjokecinema's video on their business model. The video runs you through the blog post where this information can be found!
How do servers work?
In Palia you don't choose your server. You can go anywhere your friends are and you are not limited to a specific server. This was confirmed by a developer on Palia's official Discord.
On what platforms will we be able to play?
Palia will definitely launch on PC. However, there is no information about the release of the game on other platforms or consoles.
More information coming soon….