The Castle Heart is the most important structure of your castle. It's also one of the first structures the vampires in V Rising can create. In order to progress as a vampire you need to build, upgrade or even move your Castle Heart!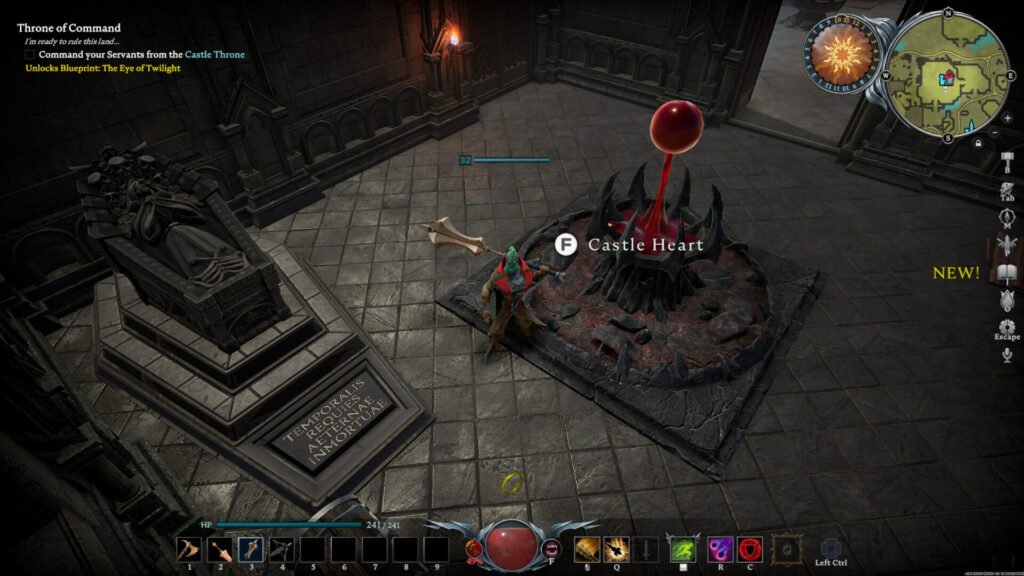 What is a Castle Heart in V Rising?
Before we can build, upgrade or move a Castle Heart you need to know what a Castle heart is. A Castle Heart is the 'engine' of your castle. It keeps operations running and fortifies a castle against enemies and other players (PvP servers only).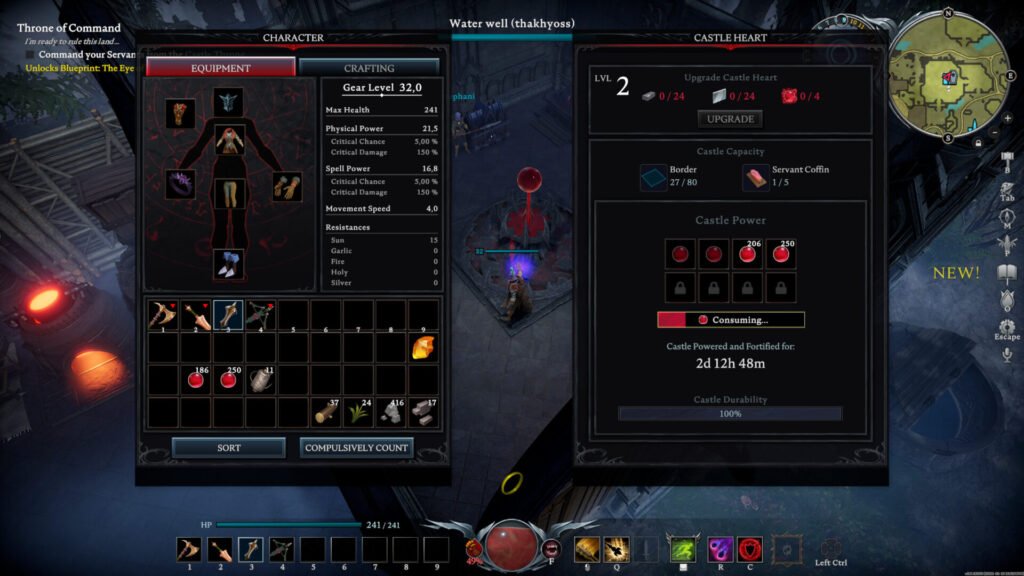 In order to keep your Castle Heart running, you need to fuel it with Blood Essence. Blood Essence is acquired by killing human(oid)s or other living creatures. Blood Essence can also be crafted if you have a Blood Press.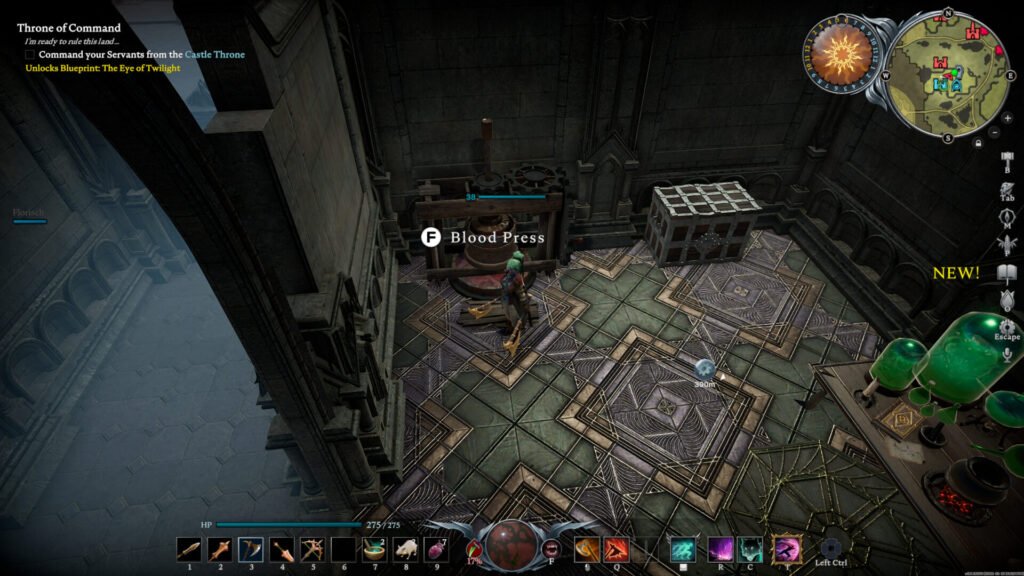 Once you acquired Blood Essence you can place it in your Castle Heart to upkeep your castle's operations.
Once you built your Castle Heart you are able to construct Borders in V Rising. Borders are required to expand your territory. You can only build in or around the edges of your own borders. Borders can be built for 2 Blood Essence and 20 stone.
How to build a Castle Heart
In order to build a Castle Heart a vampire (player) needs 30 Blood Essences and 240 stone. As mentioned before, Blood Essences can be acquired by killing human(oid)s or living creatures. Stone is gathered by mining with a mace. If you follow the tutorial, in the top left of your screen, the game tells you how to craft a mace. You can also gather stone with a sword, axe or spear but this is less efficient.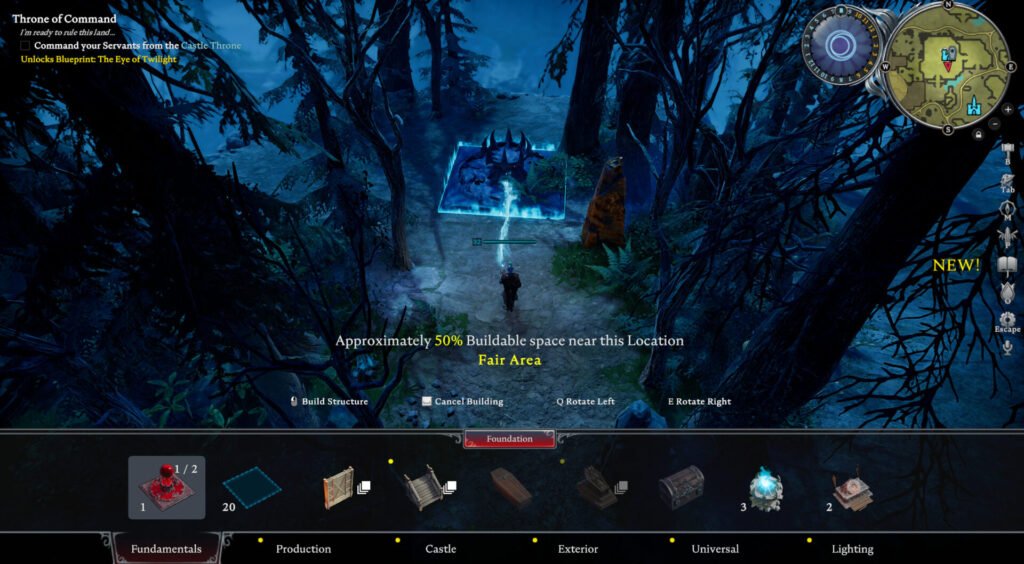 Before you build a Castle Heart make sure you have sufficient place to set up your castle. At one point you want to expand your castle around the Castle Heart. If you build too close to another castle or if you are limited by the environment you might run into trouble if you are looking to expand your castle borders.
How to upgrade a Castle Heart
Once you constructed your Castle Heart and expanded your borders you want to upgrade your Castle Heart. Upgrading your Castle Heart allows you to expand your borders and the amount of Servants you can keep. It also allows you to store more Blood Essence which extends the upkeep duration of your operations and prevents your heart from decaying.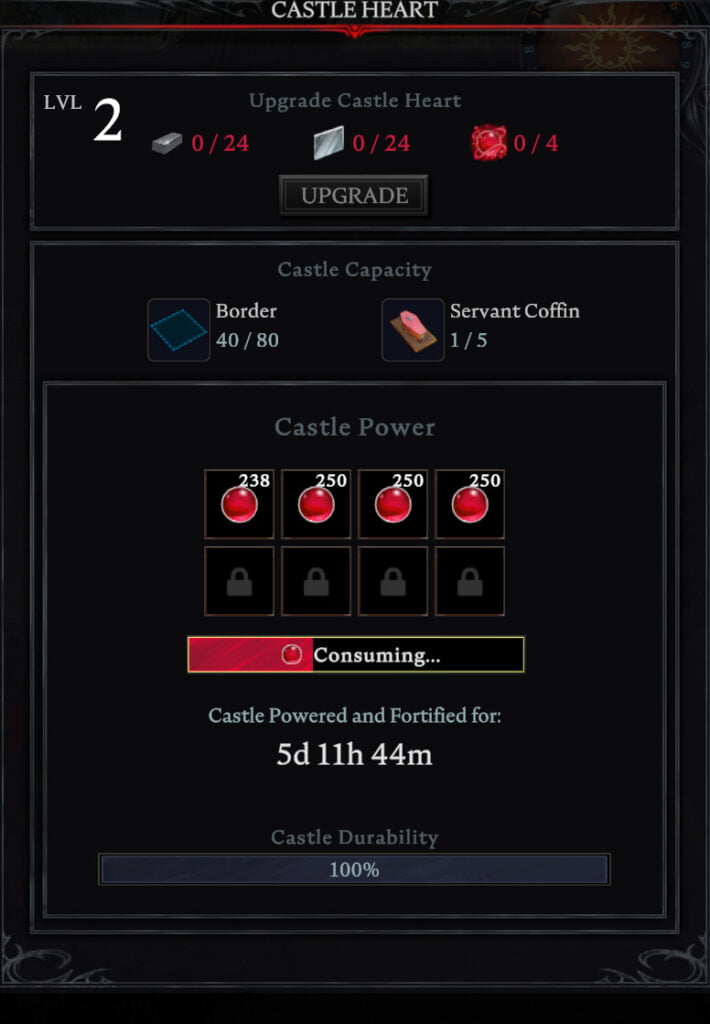 In order to upgrade your Castle Heart you need to gather and craft a number of materials. Once you have these materials, walk up to your heart and press the 'Upgrade' button. You can upgrade your castle heart up to four times. The required materials can be found in the table below.
Level
Required Materials
1
30 Blood Essence
240 Stone
2
12 Leather
12 Copper Ingots
3
24 Iron Ingots
24 Glass
4 Greater Blood Essence
4
24 Dark Silver Ingot
12 Spectral Dust
1 Gold Ingot
How to prevent your Castle Heart from decaying
In order to prevent your castle from decaying you need to feed your Castle Heart with Blood Essences. This fortifies your castle for a while and consumes the Blood Essence you stored. Once you upgrade your Castle Heart you are able to store more Blood Essence and extend the duration of the fortification and prevents it from decaying. As long as your castle is fortified it can not be attacked by other players or creatures.
How to move a Castle Heart
If you are not happy with the location of your heart you can easily move it within your borders. You can easily move it by pressing B to open the build menu, click the castle heart and move it to where you want.
If you already built an entire castle you have to demolish some tiles in order to move your heart. If you want to completely relocate your castle you must demolish everything in order to move your Castle Heart. Therefore, it might not be beneficial to move your heart and you have to think well about the location where you first set up your Castle Heart.