The Guardian. That's the best and easiest profession (or Class) you can play in Guild Wars 2. You can now stop reading and continue your journey in Tryia… However, if you're still reading, let me explain why the Guardian is the best and easiest profession and suggest some alternatives to it!
This is the easiest profession in Guild Wars 2…
In all seriousness, the Guardian profession in Guild Wars 2 is an excellent choice for players who just started playing Guild Wars 2. As you progress through the game and unlock Elite Specializations via the expansions, the Guardian becomes a versatile jack-of-all-trades that excels at dealing damage and supporting allies.
As a Heavy Armored Profession, the Guardian can sustain a lot of damage. The Guardian also has a variety of defensive abilities that make it highly survivable in challenging situations.
Since Guild Wars 2's release in 2012, the Guardian has played a significant role in group content and is included in almost every end-game team setup, whether as a supportive or damage-dealing role.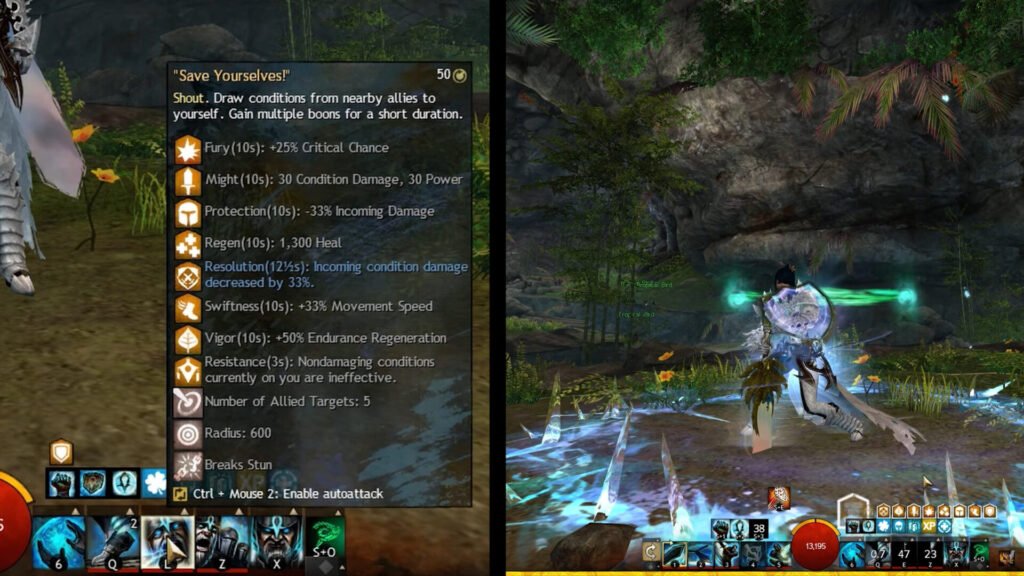 However, the Guardian does have two drawbacks: it lacks mobility and ranged abilities. It relies heavily on strong, melee-focused attacks, which can take a while to execute and may make the profession feel somewhat slow at times.
Nevertheless, the Guardian is an extremely solid choice and perhaps the best option if you only want to play one profession.
If the Guardian doesn't appeal to you, there are other great alternatives to consider.
A Medium Armored Alternative
Let's take a look at the Medium Armored Professions in Guild Wars 2:
The Thief may not be the best choice for players seeking a versatile profession, as it primarily focuses on dealing damage to a single target and only offers support abilities with the Specter Elite Specialization. For further details on this, please refer to my "professions" video.
The Engineer can fulfill both support and damage–dealing roles, but it is more complex to play than the Ranger. Nonetheless, the Engineer can still provide support and deal significant damage without requiring an Elite Specialization or expansion.
The Ranger, on the other hand, is the most suitable option among the medium armor professions. It can deal damage and is particularly effective in solo play. Rangers have a pet that can both attack enemies and defend them from incoming attacks.
Furthermore, Rangers can enhance their allies' combat performance with Spirits, providing defensive and offensive buffs in combat. Please note that the Druid Elite Specialization, which enables Rangers to heal, necessitates the Heart of Thorns expansion.
In summary, the Ranger is an easy profession to learn, deals a significant amount of damage, and has a pet that can offer both offense and defense. It's an excellent choice for new players!
A Light Armored Alternative
Let's delve into the Light Armored Professions in Guild Wars 2:
Elementalist
Necromancer
Mesmer.
The Elementalist can be too intimidating for new players. The ability to switch between different elements grants the player 20 weapon skills to experiment with, which may not be ideal if you seek an easy, laid-back profession.
However, don't let that discourage you; the Elementalist was my first profession, and I turned out just fine, I guess…
The Mesmer only has the regular 5 weapon skills, but you must manage clones, illusions and phantasms. Although I believe that the class fantasy is amazing, it can be intimidating and somewhat more challenging to play.
One drawback of the Light Armored professions is that they are slightly fragile and prone to damage.
Therefore, the Necromancer is the ideal choice in the Light Armored category. Like the Ranger, the Necromancer has numerous minions that can deal and absorb damage, offering you considerably more survivability than the Elementalist and Mesmer.
Moreover, the Necromancer has access to Death Shroud, which gives you five new skills and an extra health bar. You can activate this Death Shroud whenever you are in a desperate situation or want to inflict additional damage.
If you have the Path of Fire expansion, the Necromancer can also heal and protect their allies.
To summarize, the Guardian is the easiest and most versatile profession. Still, the Ranger and Necromancer are excellent alternatives, particularly if you want a pet or minions to aid you in combat.