Are you tired of feeling stuck at a low level in Final Fantasy XIV: Online? Look no further! These tips and insights will help you level up faster and make the most of your time in the game. From server choices to daily roulettes, there is something in here that will help you! This leveling guide is completely up-to-date for 2023 and beyond, and it is regularly updated.
Preferred Worlds XP Bonus
An important things to consider when leveling in Final Fantasy XIV is your server choice. Some servers, known as "preferred worlds", have a lower population and offer a significant advantage for players looking to level up quickly. These servers grant players an extra 100% XP boost that extends all the way up to level 80. To select a preferred world, players must create a new character (or transfer their existing character) and look for the star next to the server name in the world selection window.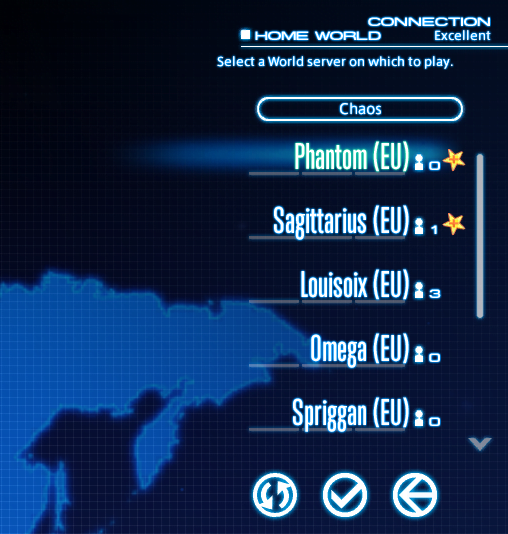 Players can also check for the "The Road to 80" icon in the top right of their screen to confirm the XP boost is active.
Leveling Alt Jobs at the same time
Another way to level up quickly is by leveling multiple jobs at the same time. In Final Fantasy XIV, jobs are similar to classes in other MMOs and players can switch between them as they please. This comes in handy whenever you need or want to visit lower level areas. For your higher level jobs these areas don't grant you much XP, but for lower level jobs they do!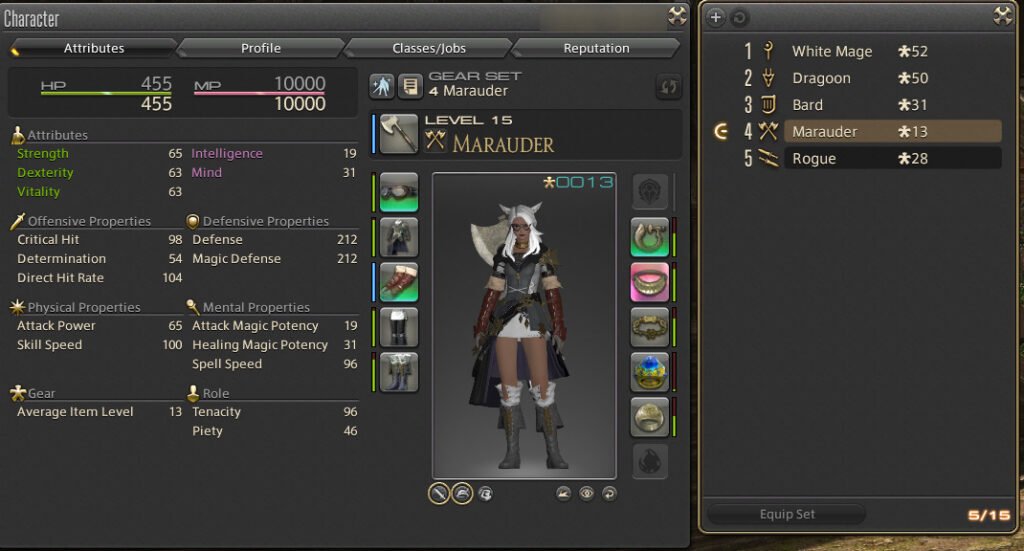 Players can also save and update gear sets to make switching between jobs easier. This is a great way to level up multiple jobs at the same time and also to try different playstyles, as some jobs are better suited for solo play, while others excel in group content.
The Daily Roulette
The Daily Roulette is a selection of dungeons and trials that you can do daily for bonus XP. This is especially helpful if you're leveling a healer or tank, as there is always a need for those jobs in group content. And the best part, is that you can queue for the Daily Roulette solo, and you'll be matched with other players, so you don't have to worry about finding a party. People who play these dungeons are very friendly and talkative. So, it's a great way to meet and connect with new people!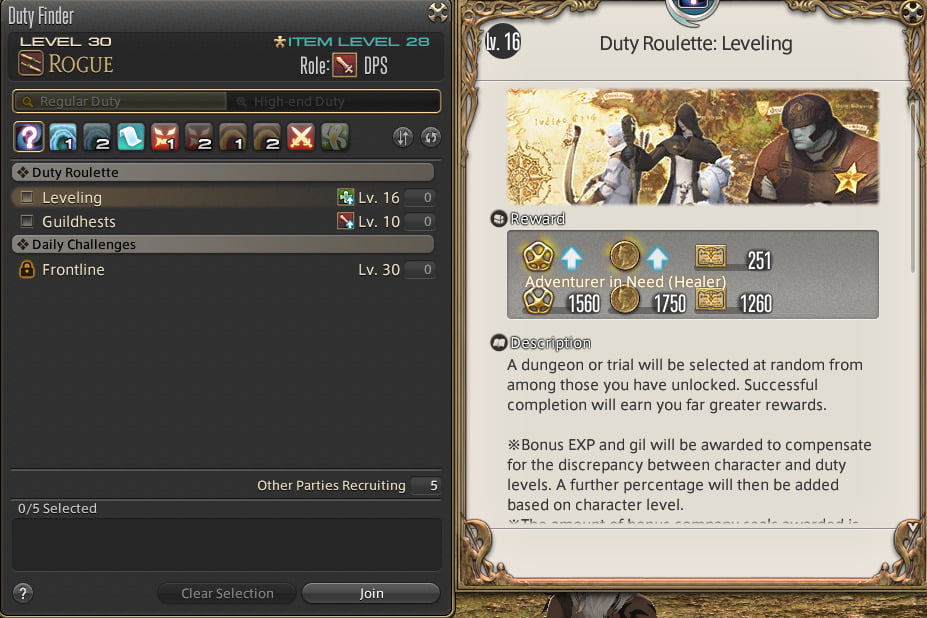 Keep in mind that these dungeons and trials must be unlocked through the story before you can queue up for them. Once you unlock them, they will be accessible for all your jobs on your character.
Palace of the dead
If you are into dungeons, it is also wise to go through the Palace of the Dead. This multi-level dungeon, also referred to as a "Deep Dungeon", allows players to enter alone or with a group and gives great XP. The levels gradually get harder the more progress you make.
Before entering the Palace of the Dead, players must first complete a short quest called "The House That Death Built," which is available in New Gridania. It is fairly short and can be finished within 10 minutes or less.
Hunting Logs
In addition to dungeons, players can level up by completing Hunting Logs. These grant significant XP and can be done while exploring the game world. The Hunting Logs are a set of tasks that you can do on each level range, from 1-10, 11-20, 21-30, and so on. These tasks consist of killing a set number of monsters, and once you complete them, you'll be rewarded with XP and gil.
The Hunting Logs are tied to your current job. That means that each job has their own Hunting Log. Whenever you're killing a specific monster of a certain level, make sure to check the Hunting Logs of other jobs at a similar level. It's possible that they also need to kill the same monsters.
Main Scenario and Job Quests
Not only do your Main Scenario Quests provide valuable XP, but they also reward you with gear and food that boost your stats and increase XP gain.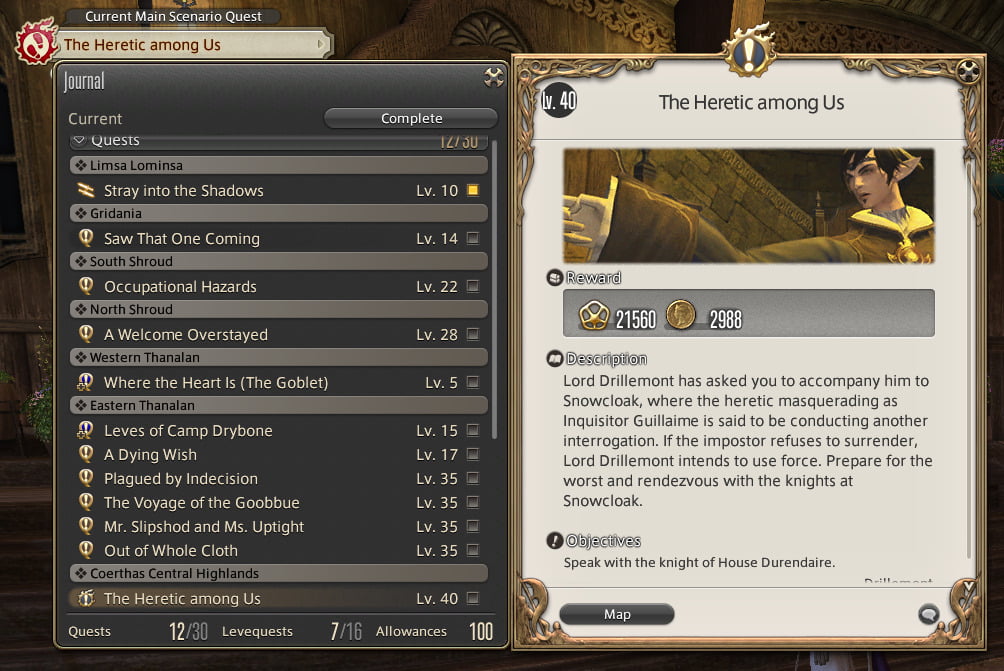 Additionally, completing your Job Quests grants your character new abilities and allows you to specialize your job at level 30, transforming it into a stronger and more advanced version. Make sure to prioritize these quests as they will greatly aid in your leveling journey.
Catch up with your highest level Job
When your lower level jobs are not on the same level as your highest level job, they will gain more experience, allowing you to level them up faster. To benefit from this, just complete the Daily Roulette, Hunting Logs, and all the other activities I mentioned before. This can be extremely useful when you have a higher level tank job but also need to have a healer at max. level. No need to grind again, the game just gives you more XP!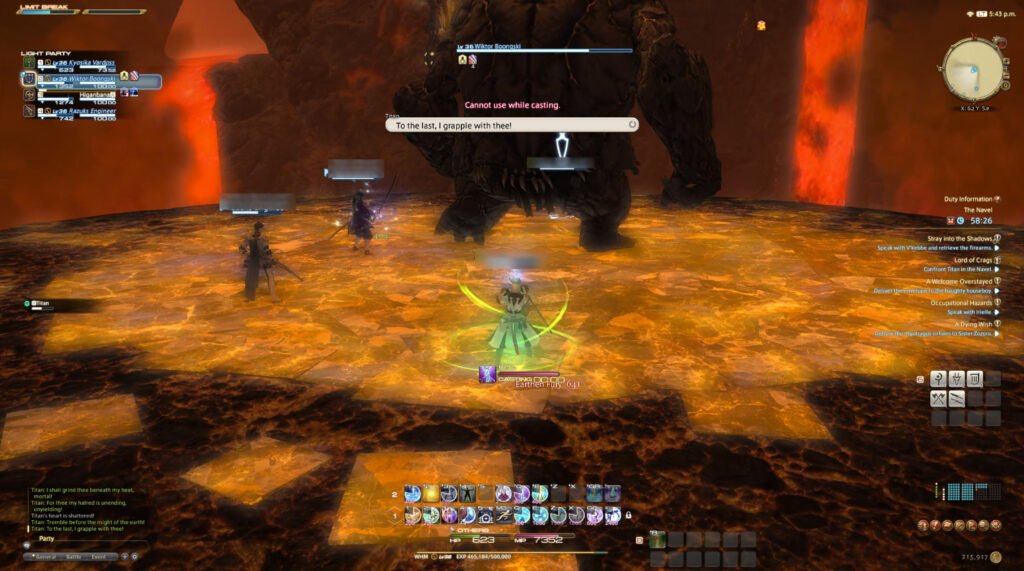 Rested XP
When you're finished playing, don't forget to log out in a designated Resting Area. By logging out in one of these areas, you will begin to build up a Resting Buff (Well Rested) that increases your XP gain when you log back in. The longer you're logged out, the longer the buff lasts, but keep in mind that there is a limit to the buff's duration. It takes 7 days to get a full bar of rested XP.

Most cities and houses with a special icon are considered Resting Areas. You'll know you're in one when you see a half moon icon next to your XP bar, and then you can safely log out and rest easy.